Support science for our future. Make a gift to the Science Center's Annual Fund today to help power connections to STEAM for everyone in our community.
While the Science Center was closed to the public in the beginning of the COVID-19 pandemic, we took a deeper look at some of the events and programs our guests have come to love over the past several years.
If there's one event that consistently draws an enthusiastic response from our guests, it's First Friday. Each month, the Science Center typically holds a free evening event focusing on a particular science-fiction or fantasy theme. 2019 marked our most successful year yet for First Friday in terms of both attendance and vendor participation.
First Friday is made possible by a team of Science Center staff from all across the organization, but Christina Carlson, Manager of Adult Programs at the Science Center, is one of the driving forces behind the scenes.
Christina, in one sentence describe what First Friday is.
First Friday is the place where the Science Center reveals the real science and technology behind your favorite pop culture subjects.
What's your role at the Science Center, and specifically around First Friday?
My role at the Science Center is Manager of Adult Programs in our Science department. Primarily, I work on our adult programs, which includes First Friday, as well as projects that connect our community to scientists and STEM professionals. I also assist with other projects as needed, including exhibition projects like GameXPloration.
With First Friday, my role is to help plan future events, create a strategy around how to bridge the space between popular culture topics and science, and to collaborate with our wonderful, cross-departmental team that makes First Friday possible.
Lauren Johnson is also an important part of the First Friday team as our First Friday Coordinator, and she does an incredible job of making each First Friday a memorable experience.
When did First Friday begin?
First Friday began in November of 2011 during the run of Star Trek: The Exhibition.
What were some of the reasons behind starting First Friday?
First Friday began as a way to connect adult audiences to Star Trek: The Exhibition, which we hosted in 2011–2012. We realized that there was a lot of science and technology mentioned in the exhibition and we wanted to expand on this, as well as provide a time for those who might be working during our normal hours an opportunity to see the exhibition and have a special experience.
How long have you been involved?
I have been involved with First Friday nearly since the beginning. It has been amazing to see the program evolve and grow over the past 9 years.
How have you seen First Friday grow over the years?
First Friday has grown in several ways. We have seen steady growth in attendance over the past several years, with 2019 being the highest attended year so far. We have also seen our networks of scientists, community partners, and vendors grow as well.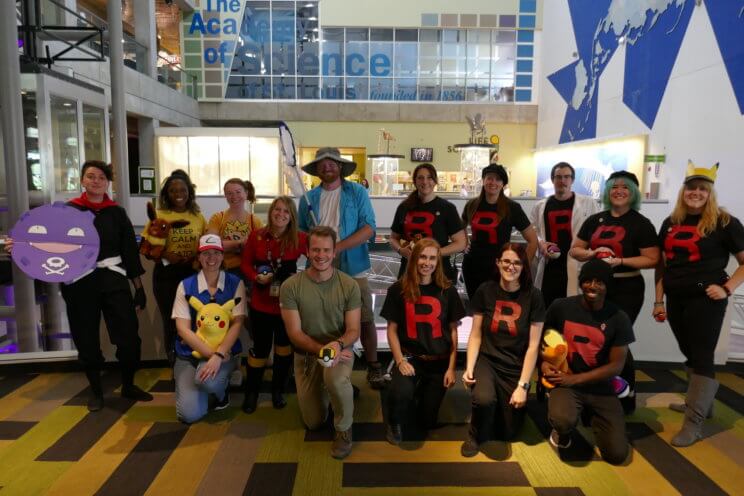 The Science Center team gets ready for First Friday Pokémon.
This past year, about 20% of our partners were first time participants in First Friday. We have also expanded the themes we try and attempt to include more current TV series and movies (like Stranger Things and Pokémon), as well as classics like Star Trek and Harry Potter.
Someone who hasn't been to a First Friday before might not realize how integral science and technology are to each event. What are some ways First Friday connects the St. Louis community to STEM and science education?
Our team believes First Friday is an ideal place for our community to connect with STEM and science education, as it begins with popular culture subjects they already feel comfortable with and are excited about. We are then able to help them see connections between these fictional worlds and real science, technology, engineering, and math.
Do any recent experiences stand out to you?
One example that stands out in recent memory was our discussion panel for Stranger Things First Friday where we had three scientists (who all happened to be women!) join us—a physicist, a forensic scientist, and a medical doctor/science journalist—and answer audience questions on what was realistic about the science in the Stranger Things series.
When we can allow our community to connect directly with scientists, who are also passionate about the popular culture subjects, we fulfill the Science Center's goal to be the regional leader in connecting people to STEM.
Items from the Science Center's Collections related to First Friday are often put on display.
What's one of your favorite things about First Friday?
I love how Science Center staff work together to create a fun, unique experience each month! This is a program our staff get very excited to participate in, and their enthusiasm is truly what makes First Friday great.
What are some things that go into planning a First Friday? Any goals that you have in mind when putting things together?
Typically, we try to find a good balance between the pop culture and science/tech side of each theme. Our goal is to provide current, accurate, and relevant science information while also creating a fun evening around a subject people already enjoy and feel connected to. We hope to make these events unique and engaging so people will want to come back to see what we're going to do next.
First Friday brings in several outside groups and experts for guests to interact with. Typically, what kinds of partners and vendors do you typically see at a First Friday? Is there anything specific you look for when bringing people in?
We see a wide variety of partners and vendors, from nonprofits like 500 Women Scientists who come to share science activities with our guests, to local artists and crafters who create unique items. We also often have local video game developers and groups like the VR/AR Association come and let our guests try out what they've been working on.
We look for partners and vendors that have something special to bring to the event whether that be a science topic, an education experience, or one-of-a-kind items they make.
First Friday is one of the Science Center's most popular and well-attended events. Last year, First Friday saw its most successful turnout ever. But is there anything about the event you wish more people knew?
That nearly all activities at First Friday are completely free! I would also want our Saint Louis Science Center members to know that we provide several additional benefits for members only.
What's something, if you had all the resources you'd want or need, that you'd love to be able to do with First Friday?
Our dream would be to create a fully immersive experience, allowing visitors to feel like they are "in" the TV show or movie we are highlighting. We tried this during Stranger Things in 2019, when we built out Will's fort, the Beyers' living room, and even a mindflayer as part of our building-wide game experience.
At our Star Wars First Friday in January 2020 we had over 75 people in costume which made for a very immersive environment. We also plan to do more of this scene setting with themes like Harry Potter later on.
With the COVID-19 pandemic, physical First Fridays are currently on hold, but the event itself hasn't gone away. What does First Friday look like during our social distancing?
While we aren't able to meet in person, we will be bringing First Friday to guests digitally! We hosted our initial First Friday from Home on May 1 with the theme "Mega Monster Movies." Each month, we plan to have some of our guests' favorite activities in a digital format, including live presentations, trivia, education and maker activities to try at home, and movie recommendations to end the night.
Guests can look for First Friday from Home on our website and Facebook page on the first Friday of each month.
First Friday offers such a compelling and unique opportunity for guests to connect with STEM in a way they might not ordinarily get to. What do you think St. Louis would lose if we weren't able to offer First Friday to the public?
One thing we hear over and over again from our First Friday attendees is that First Friday is a place where they feel safe to "geek out" about pop culture subjects they love with other fans, while also learning about science and tech in a friendly, non-intimidating format.
Without First Friday St. Louis would lose this place where fans could both connect with one another, as well as with real science.
First Friday Coordinator Lauren Johnson talks about archaeology at First Friday Star Trek.
What are you most excited about for when we get to welcome guests back for our next in-person First Friday?
When we're able to return in person, I'm most excited about seeing our partners and guests who come back each month. Some of our guests have been coming for years, and we miss seeing them and their amazing costumes. We're also excited to try out some even better First Friday experiences.
---
Your Support
Support from donors, Science Center members, and Supporting-level members is instrumental in helping the Science Center continue offering connections to science for everyone in our region. If you'd like to show additional support for our mission, please consider donating to the Science Center's Annual Fund, becoming a member, or becoming a Supporting-level member.
Your Impact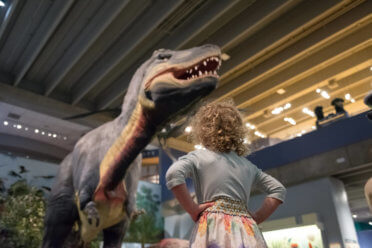 Want to learn more about how the Science Center and its supporters are making a difference for STEAM learning in the St. Louis region?