OMNIMAX® Online Theater
Stream OMNIMAX® Movies For Free
You can now experience OMNIMAX® Theater films in the comfort of your own home. Watch free from your computer or mobile device!
The Saint Louis Science Center is pleased to partner with Giant Screen Films in order to offer several popular OMNIMAX Theater titles online while theaters are temporarily closed. We look forward to welcoming guests back soon, but in the meantime, enjoy these IMAX® movies.
We, The Marines
We, The Marines takes viewers on an action-packed adventure into the unparalleled experience of becoming and serving as a member of the U.S. Marine Corps. Narrated by former marine and actor, Gene Hackman, the film honors something more than dedication and service; the film offers an unforgettable glimpse into the first-hand experiences of America's "first responders" and what it takes to become the men and women who honor and defend our country.
Where to watch
Mummies: Secrets of the Pharoahs
Part historic journey and part forensic adventure, Mummies: Secrets of the Pharaohs follows researchers and explorers as they piece together the archaeological and genetic clues of Egyptian mummies. Through ambitious computer graphics and dramatic reconstructions, the film tells the story of one of the greatest finds in modern history: the late 19th-century discovery of a cache of forty mummies, including twelve kings of Egypt, among them the legendary Rameses the Great. Narrated by Christopher Lee.
EDUCATOR GUIDE
Inspired by Mummies: Secrets of the Pharaohs, this educational activity guide responds to several key questions.
What are Mummies?
Why did Ancient Egyptians preserve their bodies?
How does the mummification process work?
How does modern medicine compare with Ancient Egyptian medical practices?
What is forensic science?
How do forensic scientists use DNA?
To answer these key questions, the content is organized around two main themes: Mummies and Medicine.
Dinosaurs Alive!
Dinosaurs Alive! is a global adventure of science and discovery—featuring the earliest dinosaurs of the Triassic Period to the monsters of the Cretaceous, "reincarnated" life-sized for the giant screen. Audiences will journey with some of the world's preeminent paleontologists as they uncover evidence that the descendants of dinosaurs still walk (or fly) among us. Narrated by Michael Douglas.
EDUCATORS GUIDE
Use these concepts to help connect the film to your science curriculum. They convey the educational themes in Dinosaurs Alive!
Science is an Ongoing Process
Tools and Technologies Enable Scientists to Make Observations and Discoveries
Fossils Provide Clues as to How Dinosaurs Live
The Earth Has a Vast History
Dinosaurs Are Diverse
Wild Ocean
Wild Ocean is an award-winning, action-packed adventure exploring the interplay between man and our endangered ocean ecosystem. The film highlights one of nature's greatest migration spectacles, plunging viewers into an underwater feeding frenzy, an epic struggle for survival where whales, sharks, dolphins, seals, gannets and billions of fish collide with the most voracious sea predator, mankind.
EDUCATORS GUIDE
In Wild Ocean, we see life and death within the ocean waters along the KwaZulu-Natal Coast of South Africa. Survival within the aquatic ecosystem depends entirely on the food web and the relationships between predators and prey. Humans play a part, too, as diminishing resources make the struggle for survival even more intense.
Use the following resources and activities to learn more about the ocean ecosystem and the predator-prey relationship. Make your own aquatic
ecosystem and observe how it changes over time. Think about ways to conserve energy and water—and protect the oceans. Learn about echolocation and how animals can use their ears to see. Find out how electronic devices impact our environment.
Visit
Members watch FREE.
Watch for FREE with a Saint Louis Science Center membership.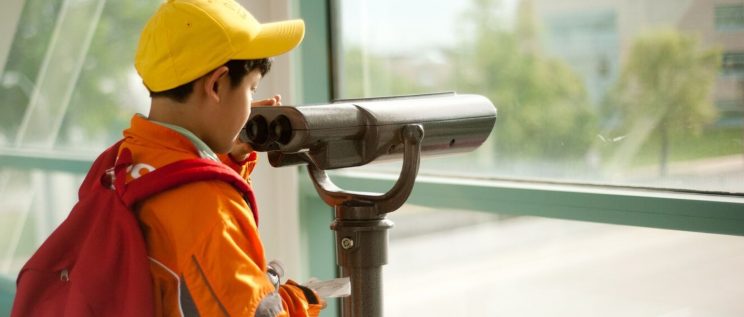 Accessibility
Convenient wheelchair accessible seating for the OMNIMAX is available via the third floor theater entrance. Elevators and ramps serve all public areas of the OMNIMAX.
OMNIMAX offers hearing assistance that is not available in any theater in the region. This includes new adjustable caption devices, new hearing assistance devices with Descriptive Video Services(DVS) and Telecoil. DVS/Descriptive Narration is available for all films unless otherwise noted. When ordering tickets, please let your reservationist know you're interested in these items, or see an usher before your film begins.
Subscribe for the latest news and events.