OMNIMAX®: Fighter Pilot
Operation Red Flag
Fighter Pilot is an IMAX film centered on the experiences of a USAF F-15 Eagle fighter pilot, then-Captain John Stratton, who wants to be professionally successful as a fighter pilot. It chronicles his experience during USAF Red Flag training at Nellis AFB, a simulated air war designed to train pilots for combat.
Price
This is a paid experience.
Children (ages 2-12): $9
Adults (ages 13-59): $10
Seniors (ages 60+): $9
College Students with ID: $9
Military: $7
Members: Free tickets based on membership level
John ("Otter") Stratton is a young American fighter pilot who flies the F-15 Eagle, arguably the most potent and successful fighter plane ever built. His grandfather was a decorated World War II flying ace, and he intended to follow in his footsteps. At Red Flag, the international training exercise for air forces of allied countries, many of the world's best pilots meet for the most challenging flying of their careers. Red Flag is the final training for pilots and their aircrews before being sent into actual combat. We follow our young pilot as he makes his way through this extraordinary event held in the desert of Nevada. He is amazed at how complex, challenging and dangerous the exercises are. He begins to notice team members who were not a part of his childhood vision of heroism, the support team crucial to a successful mission, and to a safe return home. In the aerial combat exercises, there are other pilots who aren't out just to prove themselves, they are helping him — watching his back. And he is doing the same for them. He begins to realize that being a hero is not quite as simple as he once might have thought.
Directed by Stephen Low and presented by Boeing, the film shows how airmen simulate a war without killing one another, as well as the training of military air base firemen, military ordnance crews, midair refueling operations, cockpit views, and other aspects of aerial combat. The film was released in December 2004.
A war without guns
The exercise simulates an air war without firing actual weapons using NACTS (Nellis Air Combat Training System). The participating aircraft, carrying specialized telemetry pods or other equipment, send back telemetry information to a computer, and when they have "fired," the computer figures out who is "hit." Color codes during computer replay debriefs offer a way of telling participants apart, with blue planes representing friendly forces and red planes representing enemy forces in the exercise.
There are no upcoming events at this time.
Visit
Members watch for FREE!
Get your OMNIMAX ticket FREE with a Saint Louis Science Center membership.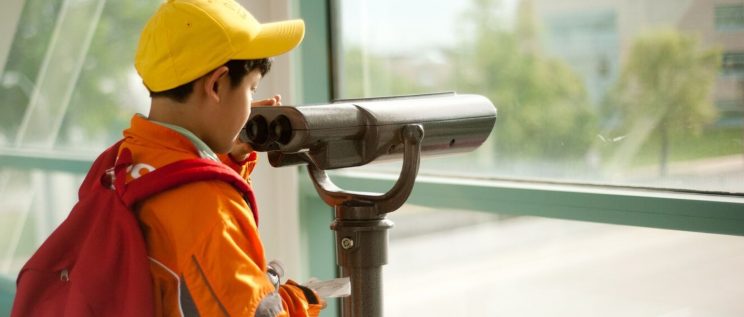 Accessibility
Convenient wheelchair accessible seating for the OMNIMAX is available via the 3rd floor theater entrance. Elevators and ramps serve all public areas of the OMNIMAX.
OMNIMAX offers the Rear Window® captioning service for all films at all showtimes, unless otherwise noted. Assisted listening devices are also available. When ordering tickets, please let your reservationist know you're interested in Rear Window captioning, or see an usher before your film begins.