Jerusalem
A Historic City
JERUSALEM takes audiences on an inspiring and eye-opening tour of one of the world's oldest and most enigmatic cities. Destroyed and rebuilt countless times over 5,000 years, Jerusalem's enduring appeal remains a mystery. What made it so important to so many different cultures? How did it become the center of the world for three major religions? Why does it still matter to us?
JERUSALEM attempts to answer these questions by following three young Jerusalemites and their families – Jewish, Christian and Muslim. Through their eyes, audiences will learn what it means to call Jerusalem home and experience celebrations and events that mark the high points of a year in the life of the city.
JERUSALEM will also follow noted archaeologist, Dr. Jodi Magness, as she explores some of the most extraordinary historical sites in the region in order to better understand how this region became a true crossroads of civilization.
Narrated by Benedict Cumberbatch ("Sherlock," "12 Years a Slave"), JERUSALEM gives audiences a completely unique perspective of a part of the world that still captivates the imagination of billions of people.
Facebook LIVE this Wednesday April 8 at 2:30pm ET
Q&A with Director Daniel Ferguson!
Join Jerusalem Director Daniel Ferguson for a special Facebook Live Q&A this Wednesday, April 8th at 1:30 pm CT on the Cosmic Picture Facebook page. In celebration of Easter and Passover, Daniel will be talking about his experience in making Jerusalem as well as life as a filmmaker.
Have a question for Daniel about filming Jerusalem, directing, or filmmaking? Share it with us on Facebook – we'll be asking Daniel a few of your questions during the Facebook Live.
SCHEDULE OF EVENTS
Monday 4/6: Shot of the Day video release
Tuesday 4/7: Shot of the Day video release, behind the scenes photos shared
Wednesday 4/8: Passover graphic release, Facebook Live Q&A with Daniel Ferguson, 1:30 PM CT
Thursday 4/9: Shot of the Day video release, education resource link shared
Friday 4/10: Shot of the Day video release
Saturday 4/11: Holy Saturday video release
Sunday 4/12: Easter Sunday graphic release
Filmed for the first time for the giant screen, JERUSALEM immerses audiences into one of the world's most beloved cities. Discover why this tiny piece of land is sacred to three major religions through the stories of Jewish, Christian and Muslim families who call Jerusalem home. Join renowned archaeologist, Dr. Jodi Magness, as she travels underground to solve some of this city's greatest mysteries. Find out why, after thousands of years, Jerusalem and the Holy Land continue to stir the imagination of billions of people. Unprecedented access to the city's holiest sites, as well as rare and breathtaking aerial footage of the Old City and the Holy Land, combine to make JERUSALEM a unique and stunning cinematic experience.
Filmmaker's Statement
Jerusalem stirs passions so deep and its role in Western civilization is so pivotal that we as filmmakers felt moved to bring this city to the world through the beauty and power of the giant screen.
Our goal is to look at the roots of the universal attachment to Jerusalem: Jewish, Christian and Muslim. We hope the juxtaposition of these different religions and cultures – all with profound spiritual and historical connections to the city – will reveal how much Jews, Christians and Muslims have in common and inspire all of us to better understand each other.
We believe that the power of the images and stories in JERUSALEM will allow our audience a unique window into the lives of others. Every stone in Jerusalem has many stories. It is the collective power of all these stories that makes the city so endearing to billions of people.
What's The Story
The film tells multiple stories. There's the story of what it means to live in Jerusalem today from the perspective of three female teenagers (Jewish, Christian and Muslim) and their families who have long-standing ties to the city. There's the detective story told by the narrator, Benedict Cumberbatch, and the renowned archaeologist, Dr. Jodi Magness, which looks at how we know what we know about Jerusalem's past and reveals some of its mysteries. Finally there is a spiritual story looking at how Jerusalem became a holy city for half our population, culminating with ancient rituals as they are still performed in Jerusalem today, during Passover, Easter and Ramadan.
We've tried to weave each of these stories together so that each informs the other and the audience comes away with a better understanding of this extraordinary and complex region.
We ask several questions in the film: Why was Jerusalem considered the center of the world by so many cultures? Why is it the most fought over piece of land in history? Why did it survive while many other cities in the ancient world fell into obscurity? Why are some of the holiest sites in the world for Jews, Christians and Muslims located within this tiny square mile? While we can't answer all these questions in a 45-minute film, we hope the story we do tell and the images we captured will provide a better understanding of why this part of the world continues to stir the imagination of billions of people and inspire audiences to learn more about Jerusalem on their own.
Visit
Members watch for FREE at the Saint Louis Science Center OMNIMAX Theater!
Get your OMNIMAX ticket FREE with a Saint Louis Science Center membership.
This does not apply to Vimeo OnDemand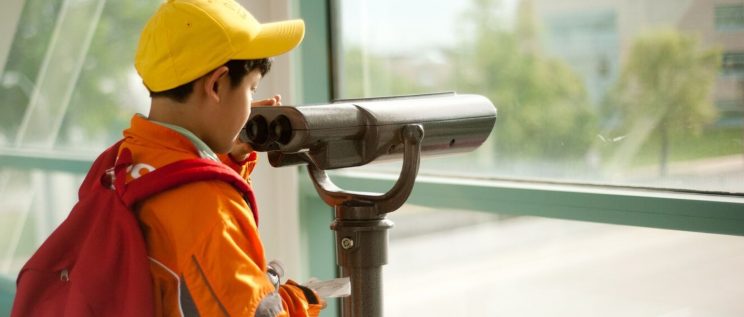 Accessibility
Convenient wheelchair accessible seating for the OMNIMAX is available via the 3rd floor theater entrance. Elevators and ramps serve all public areas of the OMNIMAX.
OMNIMAX offers the Rear Window® captioning service for all films at all showtimes, unless otherwise noted. Assisted listening devices are also available. When ordering tickets, please let your reservationist know you're interested in Rear Window captioning, or see an usher before your film begins.