Asteroid Hunters
Venture into deep space for a fascinating look at asteroids, their cosmic origins, and the potential threat they pose to our world with the IMAX® original film Asteroid Hunters. Narrated by Daisy Ridley, Asteroid Hunters introduces asteroid scientists – the best line of defense between Earth and an asteroid's destructive path – and reveals the cutting-edge tools and techniques they use to detect and track asteroids and the technology that may one day protect our planet.
RATING: G – General Audiences
RUNTIME: Approx. 45 minutes.
Learn about our guidelines, how to make a reservation and our new hours.
Omnimax Theater Safety Protocols

Step 1 – Find Them

The effects of an asteroid impact could be catastrophic and while the current probability of an event in our lifetime is low, the potential consequences make the study of asteroids an incredibly important area of scientific research. Witness the latest in planetary defense and how science, ingenuity and determination combine to explore the world's most preventable natural disaster.
Step 2 – Understand Them
65 million years ago, a six-mile wide asteroid slammed into our planet, ending the reign of the dinosaurs. Luckily, in today's age, we have the technological advancements and scientific progress paired with the bold vision and creative thinking of the planetary defense team showcased in the film, as they work to help prevent and protect our civilization from a possible catastrophic impact from space.
Whipping around the sun at an orbital speed of 67,000 miles per hour, our planet isn't the only object zooming through the galaxy at supersonic speeds. There are also asteroids – pieces of planets that never fully formed together due to gravitational pull – soaring through the Solar System that pose the threat of striking Earth.
With over 200 impact craters discovered throughout the world, scientists believe it's not a matter of if, but of when a rare, large asteroid will enter our atmosphere. Through state-of-the-art CGI, the film depicts a hypothetical asteroid as never before seen.
Movie Pricing

This is a paid experience.

Ages

Price

Members
FREE*
Children (ages 2-12)
$8.95
Adults (ages 13-59)
$10.95
Seniors (ages 60+)
$8.95
College Students with ID
$8.95
Military
$7.95
Combo (1 OMNIMAX ticket & 1 Planetarium Ticket*)


*Available for purchase at the box office only.

$13.95
Groups: $8 per person for all groups
*Free tickets based on membership level
Become a Member
Our gateway to the solar system is your own backyard!
Exploring the solar system – and worlds beyond our own – is not science fiction. Our Planetarium Star Show, Gateway to the Solar System, empowers audience members to discover planets, moons, and more by simply looking up.
Take your movie-going experience to the next level with the $13.95 OMNIMAX Theater and Planetarium Star Show combo.
Visit our meteorite collection as well. On display are two fantastic meteorite specimens that you'll want to see.
Gateway to the Solar System covers the discovery of the first asteroids in our Solar System including their formation and structure.
Step 3 – Hunt Them
Planetary defense is a relatively new science. Only a few decades ago did we become certain Earth's history of asteroid impacts was sure to repeat itself. Could we save our world today from a cosmic threat? You bet we can. But to tend to this problem, we must first understand it. That's where Asteroid Hunters comes in. The film will take you on a trip across the Solar System and to the dawn of time. Watch how gravity spun gas and dust into our Solar System, how rocky debris gathered into worlds, and how the planet-building leftovers became asteroids. See how we possess the technological know-how to keep an asteroid from hitting our planet – unlike the doomed dinosaurs of 65 million years ago.
---
Asteroid Hunters Featurette
Get a first look at Daisy Ridley as narrator of the IMAX Original Film Asteroid Hunters and venture into deep space to discover the science and technology that can save our planet.
---
Educator's Guide
Asteroid Hunters will take your students on an exciting field trip across the Solar System and to the dawn of time. They'll watch how gravity spun gas and dust into our Solar System, how rocky debris gathered into worlds, and how the planet-building leftovers became asteroids. They'll learn that these natural wonders of deep space brought water to planets, and the building blocks of life itself. They will also see how we possess the technological know-how to keep an asteroid from hitting our planet–
unlike the doomed dinosaurs of 65 million years ago.
Your students will have a front row seat to a hypothetical asteroid impact as never before seen! Asteroid Hunters is the first movie to portray this rare phenomenon as it would actually happen. They will witness world-saving technologies that arise from the imaginations of scientists. They will receive insight into how governments would respond to an asteroid threat, evacuating hundreds of square miles to protect lives.
Combined with an unforgettable viewing of Asteroid Hunters, this Educator's Guide will make a lasting impression on your students. Their imaginations fired up by how science can save Earth, your students may choose an educational path that will allow them to contribute to the future protection of Earth's fragile environment. On the pages that follow, a variety of hands-on activities and exercises will augment your curricula for astronomy, technology, engineering, mathematics, social studies, and the arts.
Understanding how our global community and a rare cosmic phenomenon may one day intersect, your students will learn how working together is the only way we can protect our world.
Best regards,
Dr. Donald K. Yeomans
NASA/JPL Senior Research Scientist, retired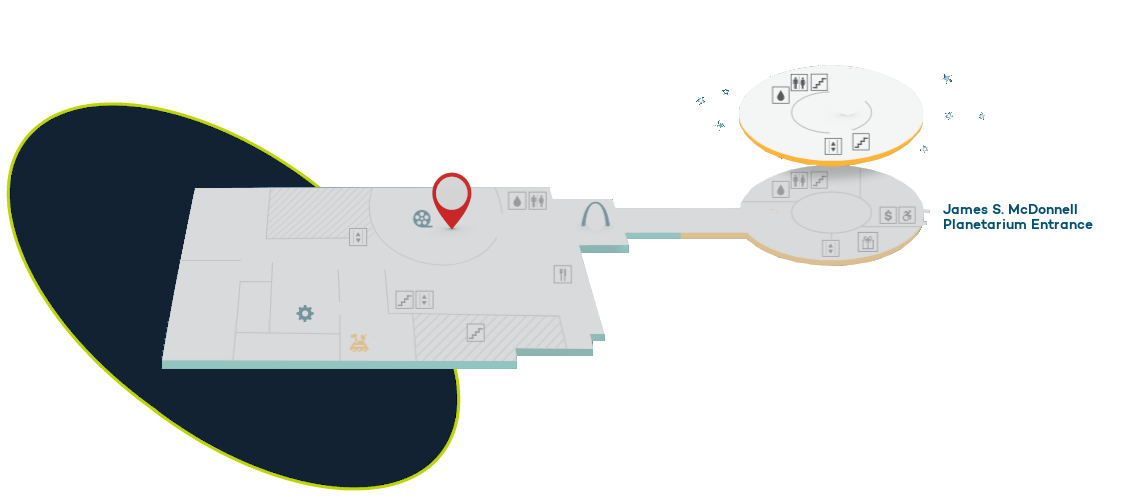 OMNIMAX Theater films take place in the OMNIMAX Theater on the 2nd floor of the main 5050 Oakland Building. Access is available through the main entrance, then the stairs in the main lobby to the second floor.
Membership
Members get free OMNIMAX tickets.
Become a Science Center member and receive free Omnimax tickets and discounted admission to feature films, as well as a full year of additional members-only benefits.
Plus, members help support the Science Center and our mission to make science learning open to everyone.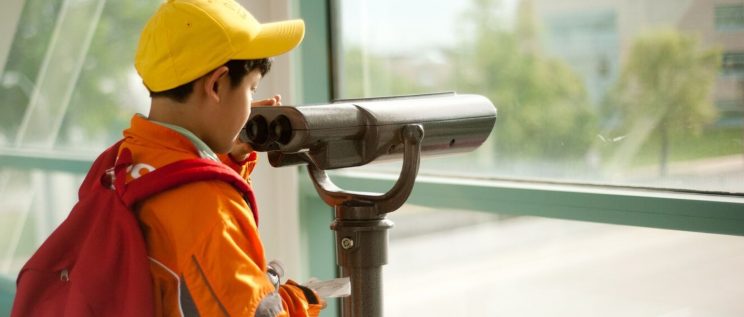 Accessibility
Convenient wheelchair accessible seating for the OMNIMAX is available via the third floor theater entrance. Elevators and ramps serve all public areas of the OMNIMAX.
OMNIMAX offers hearing assistance that is not available in any theater in the region. This includes new adjustable caption devices, new hearing assistance devices with Descriptive Video Services(DVS) and Telecoil. When ordering tickets, please let your reservationist know you're interested in these items, or see an usher before your film begins.