Backyard Wilderness
It's all in our backyard
Backyard Wilderness will surprise and entertain viewers with the unexpected wonders of nature that are right under our noses – in our own backyards. Spanning a seasonal year around a suburban home, the film displays a stunning array of unique wildlife images and behavior – all captured by cameras mounted inside dens and nests, and moving along the forest floor and pond bottom, to reveal its inhabitants in rare and breathtaking intimacy. We follow Katie, a young girl, and her modern family living next to the woods who are blind to the real-life spectacle around them, absorbed by an array of electronic devices in their busy lives. Katie gradually discovers the intricate secrets that nature has hidden so close to her front door and we experience the joy she finds in her interactions with this new world. The film reminds us that Wi-Fi is not the only connection that matters and that sometimes in ordinary places, you can uncover extraordinary things that could transform you forever – you just need to step outside.
Welcome back to your science center.
To our guests, members and donors, learn about how you can Explore Safe here.
Same-day tickets for OMNIMAX films are available online, at the Science Center, or by calling our box office at 314.289.4400. Feature films may have special pricing. Discounts are available for groups of 10 or more.
Discover more in our backyard!
Add more to your wilderness experience by seeing more of the Science Center!
Explore our GROW gallery with chickens and bees (Free for all)
See the dinosaurs outside the Planetarium, can you find them?
Movie Pricing

This is a paid experience.
Ages

Price

Special 22 minute edition, special price

Members
FREE*
Children (ages 2-12)
$5.95
Adults (ages 13-59)
$7.95
Seniors (ages 60+)
$5.95
College Students with ID
$5.95
Military
$5.95
*Free tickets based on membership level
Become a Member
Groups: $6

Welcome to the Backyard Wilderness Educator Guide. The guide was created by HHMI Tangled Bank Studios and the California Academy of Sciences to promote outdoor exploration and learning in support of the film Backyard Wilderness. We hope it will be a useful tool for getting your students excited about scientific observation and the natural world.
The guide is tied to NGSS standards, and the activities within have all been carefully designed to stimulate curiosity and engage students in data-driven, scientific investigation of the world around them.
Visit
Members watch for FREE.
Save on your OMNIMAX ticket with a Saint Louis Science Center membership.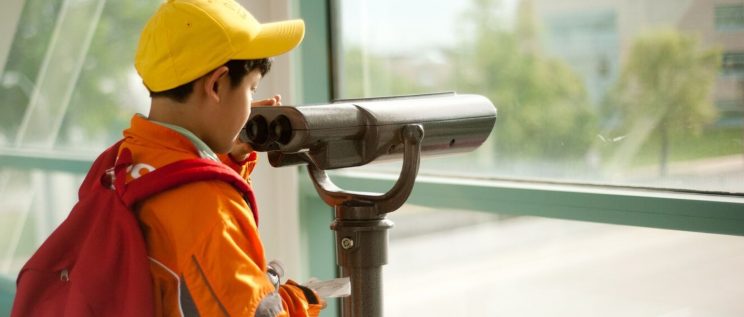 Accessibility
Convenient wheelchair accessible seating for the OMNIMAX is available via the third floor theater entrance. Elevators and ramps serve all public areas of the OMNIMAX.
OMNIMAX offers hearing assistance that is not available in any theater in the region. This includes new adjustable caption devices, new hearing assistance devices with Descriptive Video Services(DVS) and Telecoil. When ordering tickets, please let your reservationist know you're interested in these items, or see an usher before your film begins.