Space Station
A select few have been onboard, now it's your turn!
The International Space Station (ISS) is a technical marvel, unparalleled in scope and challenge. A permanent facility focused on studying the effects of long-duration exposure to microgravity, it is the necessary first step toward the global, cooperative effort needed to venture out to Mars and beyond. Truly an international effort, this Earth-orbiting laboratory draws upon the scientific and technological experience of 16 nations.
Price
This is a paid experience.
Children (ages 2-12): $9
Adults (ages 13-59): $10
Seniors (ages 60+): $9
College Students with ID: $9
Military: $7
Members: Free tickets based on membership level
The International Space Station
As astronauts and cosmonauts lift off from NASA's Kennedy Space Center and Russia's Baikonur Cosmodrome, students are on board. They join Space Shuttle and ISS teams moving into their orbiting home, watching them unpack and settle in. Thanks to IMAX cameras, your students can peek in on the daily duties of fellow crew members living and working in space – eating with the crew, catching a glimpse of sleeping astronauts, and enjoying humorous moments in the near weightless world of Earth orbit.
Whether "swimming" in microgravity within the ISS modules or suiting up for a spacewalk and stepping out of the airlock, students learn first-hand what it means to be a space explorer. They understand the challenges of being a free-floating construction worker. They see through the eyes of spacewalkers the spectacular view of our awesome planet, an Earth with no visible borders between countries.
There are no upcoming events at this time.
Visit
Members watch for FREE!
Get your OMNIMAX ticket FREE with a Saint Louis Science Center membership.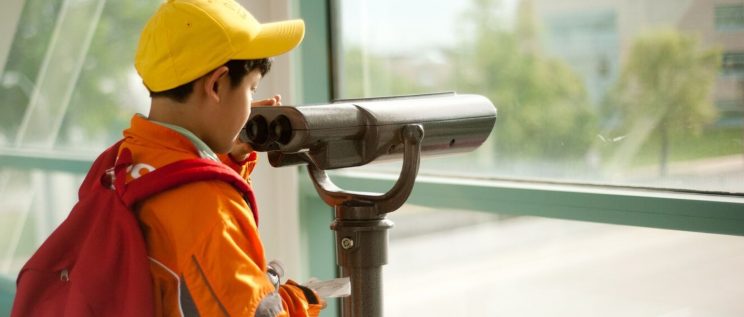 Accessibility
Convenient wheelchair accessible seating for the OMNIMAX is available via the 3rd floor theater entrance. Elevators and ramps serve all public areas of the OMNIMAX.
OMNIMAX offers the Rear Window® captioning service for all films at all showtimes, unless otherwise noted. Assisted listening devices are also available. When ordering tickets, please let your reservationist know you're interested in Rear Window captioning, or see an usher before your film begins.