Tyrannosaurs: Meet the Family
Tyrannosaurs: Meet the Family
Meet The Family
This fall, Tyrannosaurs: Meet the Family–the world's first exhibition showcasing the newly revised tyrannosaur family tree–comes roaring into the Science Center, giving you the chance to learn more about the entire tyrannosaur gang!
Come face-to-face with a life-sized T. rex, see a dramatic array of fossils and casts of tyrannosaur specimens, run for your life in a virtual experience, hatch a dinosaur egg and more in this immersive, multimedia exhibition that sheds new light on these ancient carnivores.
Behind the stories of the ancient carnivores is astonishing science. Discover the cutting-edge technology being used by today's paleontologists, how Earth has changed over time, what evolution is and why sudden environmental devastation can cause even the most dominant species to go extinct.
Members enjoy discounted tickets to special exhibitions.
Due to city health guidelines, the Science Center is operating at a reduced capacity. Reservations for this exhibition are not required but can be made online or by calling 314.289.4424. The safety of our guests and team members is of the utmost importance to us. Learn about our advanced safety measures.
Think you know T. rex? Think again.
New discoveries are taking place about the T. rex of popular myth, of dinosaur toys and the Jurassic Park movies. The evolutionary history of the "king of the dinosaurs"  is still being uncovered, with ancestor tyrannosaurs of all shapes and sizes now found in Asia and Europe as well as in North America and perhaps even Australia!
Tyrannosaurs: Meet the Family explores the "most feared and revered" of all dinosaurs in new and different ways. The exhibition's specimens are not only spectacular in scale and form, but also reveal some of the most significant scientific discoveries in paleontology over the past decade.
The exhibition features Scotty, a life-sized replica of a T. rex skeleton discovered in 1991. She is the heaviest and oldest T. rex currently on record. When she was alive, she was almost 20 feet tall, nearly 40 feet long and tipped the scales at more than 19,000 pounds!
Exhibition Pricing

This is a paid experience.

Ages

Price

Members
$7.50*
Children (ages 5-12)
$10.95
Adults (ages 13-59)
$14.95
Seniors (ages 60+)
$12.95
Children 4 and under
FREE**
Military
$10.95. Discount Available On-Site
Groups: Pricing available for all groups
*Members get a discount!
Become a Member
**There is no charge for Children 4 and under, but a free ticket is still required.
Explore more at your Science Center!
Visit our ecology and environment gallery for even more awesome dinosaur science, including our Dana Brown fossil dig site and prep lab! Pretend you're a paleontologist as you chip away at the dirt to uncover dinosaur fossils buried deep beneath the earth in a reconstruction of the Badlands of Montana. Stop by the prep lab to watch staff and volunteers work on preparing real dinosaur fossils, then check out our Crestaceous diorama with our own T. rex, Triceratops, Pteranodons and Cretaceous mammals.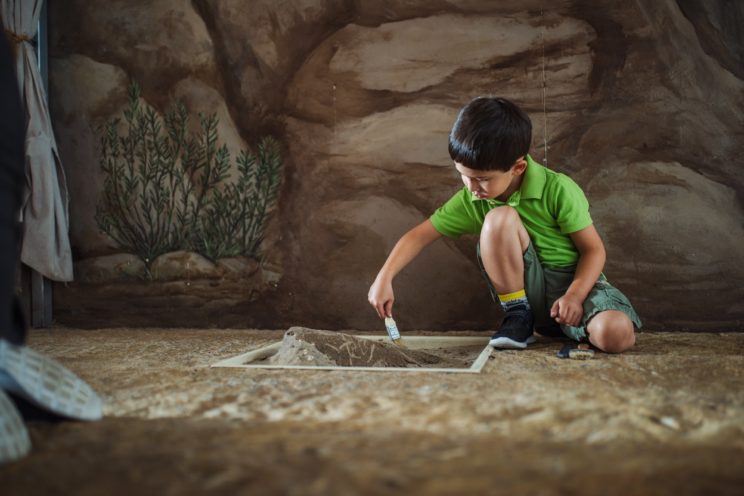 Field Trips
Educators, want to bring dinosaurs into your classrooms? Check out our virtual field trip, Dinosaurs of Antarctica! Did you know dinosaurs lived in Antarctica? How do scientists study fossils in such an extreme environment? Work as a team to solve the challenges a paleontologist faces while excavating fossils in Antarctica throughout this phenomena-based program!
Tickets are sold for a specific date and time. You can purchase your tickets online by clicking the button on the page above, titled "Buy Tickets." This will ensure your time slot is held to enter the exhibition. You will need General Reservation tickets as well, which can be added for free on the ticketing website.
Additionally,  you can buy tickets at the museum box office for the next available time period once you arrive. Keep in mind that time slots can sell out so you may have to wait until the next open time. To avoid this, we encourage you to purchase your tickets in advance.
How do we purchase group tickets?
All pertinent information can be found on our Group Visits page.
How long will it take to view the exhibition?
Guests typically spend between 45 and 60 minutes in Tyrannosaurs: Meet The Family. Many visitors plan for more time to experience the rest of the Saint Louis Science Center.
How long can I stay in the exhibition?
You may visit as long as you like or until the exhibition closes. Please note that Tyrannosaurs: Meet the Family is a timed-entry exhibition and the last guests will be admitted to the exhibition 1 hour prior to closing time so please plan your visit accordingly. No re-entry will be permitted.
Are children allowed in Tyrannosaurs: Meet the Family?
Yes, children are welcome in the exhibition. Please note that all children must be accompanied by an adult while visiting.
No, there isn't an audio tour.
Are there Tyrannosaurs: Meet the Family tours?
We do not offer group or individual tours.
Are food and beverages allowed in the exhibition?
No. In order to protect the exhibit and to keep the museum clean, food and beverages are not allowed in Tyrannosaurs: Meet the Family.
Can I take photographs or film in the exhibition?
Yes. Photography and filming, including all pictures taken with cell phones, are allowed in Tyrannosaurs: Meet the Family.
Are cell phones allowed in the exhibition?
In order to encourage a respectful atmosphere, we ask you to please turn off or silence your cell phone while in Tyrannosaurs: Meet the Family.
Tyrannosaurs: Meet the Family is an exhibition created by the Australian Museum and toured internationally by Flying Fish.
Special thanks to our media partner:
Dino Programs for Groups
Groups of 10 or more can receive special discounts to Tyrannosaurs: Meet the Family with advance reservations. Call 314-289-1419 to speak to our Group Sales Manager, or visit our Groups & Field Trips page for more information.
EXCLUSIVE BENEFITS FOR GROUPS 10 OR MORE
Discounted tickets
No phone service fees
Reserve now, pay later
Bus and shuttle parking available
School and youth groups receive one(1) free adult chaperone for every five(5) children
Can't do a coordinated group visit? No problem.
Have your business, organization or school district ask about setting up a promo code for discounted individual purchases.
Visit
Members get in with a discount.
Save on your Tyrannosaurs: Meet the Family tickets with a Saint Louis Science Center membership.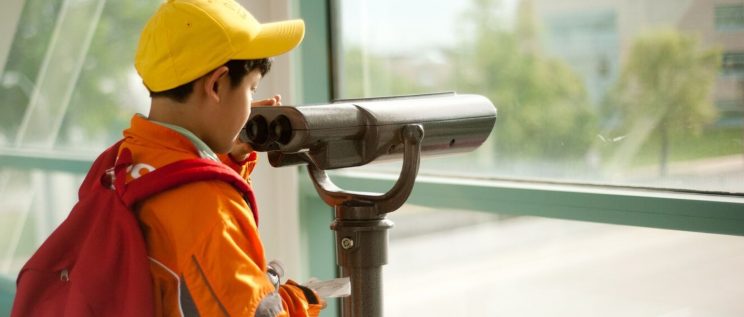 Exhibit Policies
One(1) adult chaperone is required for every five(5) children.
No food or beverages are allowed in the exhibition.
No pencils, pens, markers or any other kind of writing implements are allowed.
Photography is allowed without flash.
Accessibility
The exhibition is accessible to visitors with disabilities, as well as visitors with strollers, scooters, and walkers. Elevators and ramps serve all public areas.