Support science for our future. Make a gift to the Science Center's Annual Fund today to help power connections to STEAM for everyone in our community.
What would you do if you had sixty minutes to introduce yourself to the basics of computer programming?
Computer Science Education Week is a worldwide event designed to help answer that very question and educate people on the importance of computer science.
2018's Computer Science Education Week starts on December 3rd, falling as it does each year to mark the December 9th birthday of computer science pioneer Admiral Grace Murray Hopper, who over the course of her life advanced computer programming through the development of one of the first compiler tools, as well as the FLOW-MATIC and COBOL programming languages.
One of the week's keystone events, the Hour of Code, is an initiative designed to "demystify" the language of programming through a variety of sixty-minute coding activities.
Local, interactive projects for both beginners and those with prior experience let participants try their hand at almost anything. Build a game from the ground up with JavaScript or Python, create digital snowflakes with the characters from Frozen or even program animated droids from Star Wars.
Hour of Code and Computer Science Education Week officially happen just once a year, but the events encourage individuals and organizations to host their own education sessions year-round.
Here at the Science Center, the Youth Exploring Science (YES) Program takes a similar approach, exploring STEM fields like computer science over time and continually learning to develop new skills.
The YES Program serves as an integral part of the Science Center's mission in the St. Louis community to ignite and sustain lifelong science and technology learning. Participants, known as YES Teens, are chosen through community partners and tackle hands-on projects to prepare them for a future where STEM skills are at the forefront.
When the YES Program introduced a cybersecurity component in 2017, the teens participated in the annual CyberPatriot competition. There, teams are placed in the role of IT professionals who must examine virtual images of operating systems, finding cybersecurity vulnerabilities and implementing security protocols to protect each system from potential attacks.
With just six hours to make their virtual operating systems as secure as possible, teams earn points for fixing security bugs while keeping critical systems operational.
The more secure the operating system, the more points received and the higher the team's ranking.
During the 2017 competition, the YES Teens ran into a performance problem on the computers running their virtual operating systems. Limitations with processing power and memory made it difficult to compete. And although the teams placed 2nd and 3rd in the Silver tier for the state of Missouri, they knew that if only they had the right tools, they could do better.
The quick fix? Replace the computers they were using with newer, better ones.
But while that might have been okay for some, the YES Program is more interested in teachable moments than simple solutions.
YES educators took this challenge and turned it into an opportunity for the teens to learn more about what goes on inside a computer and how components work together to make a functioning machine.
As part of the informal learning environment offered by the YES Program, the teens weren't given a specific lesson plan. Instead, educators helped them examine broader computer science topics through hands-on projects.
To address the lack of computing power from the CyberPatriot competition, the teens looked to different processors, expansion cards and RAM, exploring each component and testing different configurations to find what would work for their situation.
Ultimately, they came to a conclusion: what better way to overcome those roadblocks than by building a computer, customized for their needs, piece by piece?
Part of their approach was not only to overcome this particular setback, but also to provide them with a more modular computer, one they could adapt for future projects.
That one computer turned into several more, and in true YES fashion, this kickstarted another computer science project: an in-house computer help desk where YES Teens troubleshoot and service devices, assisting in everything from software updates and security issues to component replacements and repairs.
While the informal approach to learning may not have a rigid curriculum, the goal of these projects is clear. In the cybersecurity component, YES Teens get real hands-on experience with building, programming and servicing computers. As with each component, they get to take that knowledge to go on to college and careers, and then ultimately back to their communities.
This year, the YES Teens are once again participating in the CyberPatriot competition, and are off to a fantastic start. After completing the first round in early November, the two teams, the Show Me State Warriors and the New YES Knicks, are gearing up for their next competition on December 8.
That date is just one day shy of Admiral Hopper's birthday. While it may only be a coincidence, the YES Program and its participants embody her same attitude toward learning, one that's championed each year by Computer Science Education Week—that it doesn't have to stop after seven days or with one focused hour.
Instead, each day is a fresh opportunity to meet a new challenge, push the limits and reach for a higher bar. For the YES Program and its participants, that drive is there, too. It's built in, hard-coded.
Learn more about the YES Program
Learn more about Computer Science Education Week
Written by:
Michael Wense
Contributing Writer
---
Your Support
Support from donors, Science Center members, and Supporting-level members is instrumental in helping the Science Center continue offering connections to science for everyone in our region. If you'd like to show additional support for our mission, please consider donating to the Science Center's Annual Fund, becoming a member, or becoming a Supporting-level member.
Your Impact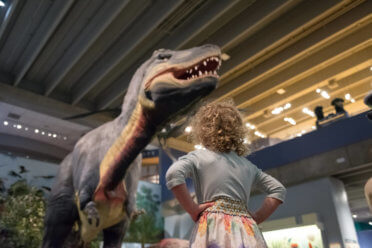 Want to learn more about how the Science Center and its supporters are making a difference for STEAM learning in the St. Louis region?