Support science for our future. Make a gift to the Science Center's Annual Fund today to help power connections to STEAM for everyone in our community.
Asked what the word sustainability means to her, Maddie pauses for a minute to pull up a quote on her computer. "I want to get this definition right," she says. "Sustainability means healthy people, communities, and environments, now and in the future."
This is Maddie Earnest, Manager of GROW and Life Science at the Saint Louis Science Center. She's currently in the early stages of spearheading the Science Center's participation in a nationwide sustainability fellowship from the Rob & Melani Walton Sustainability in Science and Technology Museums initiative.
"I just love that [definition]," Maddie says. "It's like, right—that's what it is."
I recently spoke to Maddie about the Science Center's participation in the fellowship, what sustainability means and why it's important, and how her thoughts on the topic have changed as she continues to push for a more sustainability-focused mindset for herself, her colleagues, and the Science Center itself.
Sustainable Development Goals
Not everyone thinks of sustainability in such broad terms. At least, not at first. In January of 2020, Maddie attended a two-day meetup in Phoenix, Arizona, with approximately 30 other museum professionals as part of the fellowship.
"Prior to this, when I would think about sustainability, I would think about, oh, solar panels, clean energy. You know, clean water, recycling, consuming." In preparation for Phoenix, Maddie and the others were to review the Sustainable Development Goals, or SDGs, which were created by the United Nations in 2015 to help individuals and organizations broaden their perspective on what exactly sustainability means.
"There are 17 of them," Maddie says, "and what I love about them is that they're very holistic. They ask you to think about things like poverty, good education, life below water, life on land, peace and justice. Meaningful work. Things like that."
This year, the Science Center is one of more than 90 museums participating in the fellowship, which supports institutions in developing sustainability-related efforts like public education programming, professional development for staff and volunteers, or operational details like recycling programs and energy efficiency.
Each participant is expected to put together a sustainability project for their institution. Initially, Maddie thought hers would focus somehow on the Science Center's recycling and composting practices. After reviewing the SDGs and talking with fellow Science Center staff, though, she had a gut feeling that that wasn't quite the right direction.
Maddie knew she didn't want to go and come back to do a simple tabletop activity or something for an activity cart. "We [could] already do that," she says.
Then, in Phoenix, Maddie realized she wanted to go not just big picture but, in her words, "giant picture."
Part of it stemmed from a talk at the meet-up about a United Nations report that many sustainability issues could be positively impacted by addressing issues of gender equality. "If you think about how many women don't have access to birth control, that leads to more poverty. How many women don't have access to education, so they don't have choices over their lives," Maddie said. "I couldn't quit thinking about it."
That led her to ask the question: "How do we use this to launch efforts at the Science Center to do more sustainability programming, or if not programming, how do we change some of our practices?"
In Phoenix, as Maddie interacted with the other attendees, she realized just how big the Science Center is compared to some other organizations. "You know, what if instead of just thinking about recycling, we would use these SDGs as a framework for our whole organization?" (Maddie and I are chatting via Zoom, and it's here that her face brightens, as if lit just by remembering that lightbulb moment.)
"I was like, can I do that?" she said.
From project to practice
For the fellowship project, Maddie's next steps are twofold. First, she used the $1,000 fellowship money awarded to each participating organization to join the St. Louis Green Business Challenge. That program brings together various organizations, companies, and government bodies throughout St. Louis to develop sustainable programs and support efforts addressing a variety of SDGs like climate action and recycling, as well as things like waste reduction strategies, employee education, sustainable purchasing, and more.
Second, Maddie will go through what she calls the "discovery phase." Here, the goal is to meet with each department in the Science Center to review the SDGs, see what the organization is already doing, and—more importantly—where the opportunities are to do better.
When I ask if her "giant picture" vision is more of a direct incorporation of sustainability into the Science Center's culture, there's almost zero hesitation. She nods. "Exactly. Yeah, it would be what we just think about."
Long-term, her hope is that sustainability would be something that the Science Center holds as a core tenet throughout all of the organization's departments, decisions, and programs. "All of our actions and goals could fit in there, and it just becomes seamless to think about it, consider it, and take steps toward it."
COVID-19, sustainability, and the mission
As with almost everything these days, COVID-19 is a factor. "Obviously, the hard part is we're in a pandemic," Maddie says. "And we're all going to be hit hard financially."
While the Science Center solidifies its next steps in moving forward on Maddie's sustainability project, there are considerations, as with any nonprofit, about costs and resources. The Science Center, like most nonprofits today, faces an unprecedented disruption in how the organization funds not just its daily operation and education programs, but also the new initiatives people like Maddie are inspired to develop. Support from members, donors, and individuals throughout the St. Louis community has never been more needed.
For now, though, Maddie believes that a focus on sustainability doesn't have to stop. "I think you can always keep it in mind. Maybe you can't put a lot of money toward it, but you can take actions and steps as you think about it."
In her preliminary conversations with Science Center staff, Maddie says the response has been overwhelmingly positive. "I think it resonates with people, and they're hungry for it. I think our Science Center team wants to be more active around issues of sustainability. I've gotten emails from people saying, 'I just want to be involved as this moves forward. Tell me what I can do.' "
Sustainability isn't just a passion project, either. Goals related to Quality Education, Climate Action, Innovation, and more run in parallel to those of the Science Center.
"It's really interesting for a science center to take on the 17 Sustainable Development Goals. These goals encompass all areas of science, even including social sciences with focuses on poverty, equality, and peace and justice. While these aren't necessarily written explicitly in our mission, we are a museum that serves everyone in our community. Challenging ourselves to think more holistically helps us to continue to create relationships and programming that serve the needs of our community."
"Right now," Maddie says, "the thing the pandemic has probably [demonstrated most in terms of] sustainability is how much inequality there really is in the world. If we think about just in St. Louis how many members of the Black community have contracted the virus versus caucasian populations." (A May 2020 report from the Missouri Hospital Association examines the disproportionate impact COVID-19 has on St. Louis's Black communities.) "So to me it's even more important that we think about these, and what does that mean, and how does the Science Center serve our community and serve these goals."
Ultimately, that's why Maddie wanted to take the time to find that definition on her computer. "That's what [sustainability] is. And what that means is how we're all living together in a way that'll keep us healthy and not cause so much harm to everything else around us."
With a single term encapsulating so many different ideas, Maddie feels it's important to reduce the barrier to entry for people. With a broader scope, Maddie says, you can think beyond the environmental and bring more people into it. That's exactly what she hopes to do as she and the Science Center move forward.
"That's why I love looking at it through the lens of the 17 Sustainable Development Goals. Everyone can find a place in it. There's no way you can't find a place in it for your efforts, your work. You can do something."
---
Your Support
Support from donors, Science Center members, and Supporting-level members is instrumental in helping the Science Center continue offering connections to science for everyone in our region. If you'd like to show additional support for our mission, please consider donating to the Science Center's Annual Fund, becoming a member, or becoming a Supporting-level member.
Your Impact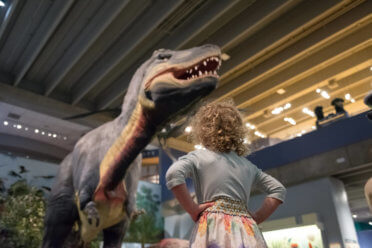 Want to learn more about how the Science Center and its supporters are making a difference for STEAM learning in the St. Louis region?