Life Science Lab
Life Science Lab
Uncover the mysteries of life.
The Life Science Lab provides unique and scientific experiences across many areas of life science, including genetics, biotechnology, medicine, and health. Discover more about these topics through artifacts and hands-on exploration.
The Life Science Classroom
The Life Science Classroom offers many educational programs for visitors of all ages, especially young learners ages 3 to 8, and is open most days for visitor exploration during the spring, fall and winter. Rotating, interactive activities throughout the year allow for self-guided learning about ecology, health science, and genetics.
Pacific Coral Reef Aquarium
Coral reefs are among the most diverse of all marine ecosystems, providing food and shelter for nearly a quarter of all ocean species. Visit the Pacific Coral Reef Aquarium in the Life Science Lab Classroom to learn more about the extraordinary reef ecosystem. Identify our reef organisms and learn about the many symbiotic relationships they form. Discover live corals, see if you can "find Dory," or spot a brittle sea star.
Activity Benches
Lose yourself in self-guided, hands-on life science activities. Visitors must be at least five years old to enter the activity bench area. Visitors ages five to nine years old must work with an adult (three children per one adult). If you're planning a group trip, be sure to review our policies.
Activity Bench Operating Hours
Currently closed until further notice.
The Atrium
Check out our current displays of items from the Science Center's collections, as well as hands-on activities.
Life Science Lab Animal Scence
Go behind-the-scenes and see how we care for all of the different types of animals that live at the Science Center.
Lunchtime in the Life Science Lab
Did you know that Axolotls, Western Lesser Sirens, and African Clawed Frogs are all carnivores? Go behind-the-scenes with Charlie in our Life Science Lab to find out how these amphibians hunt for prey while he feeds them their favorite snack.
Water Change Day
The first rule of Life Science Lab is "Explore, Observe, Discover!" The second rule of Life Science Lab is "Always wear waterproof shoes." Routine water changes are a major part of our critter care routine.
African Clawed Frog
What do clones, pregnancy tests, and the Space Shuttle Endeavor have in common? Go behind the scenes with Dakota in the Life Science Lab to find out!
Plan Ahead
Activity benches, the Laboratory the Lab Classroom and the Pacific Coral Reef Aquarium are occasionally closed to the public for private programs.
Visit
Membership does more.
As a nonprofit, the Saint Louis Science Center relies on memberships, donations and ticket sales to support free galleries like Life Science Lab, our education programs, community outreach and daily operation.
If you'd like to support the Science Center's mission, learn more about membership, make a one-time gift in support of the Science Center, or get tickets to see a show.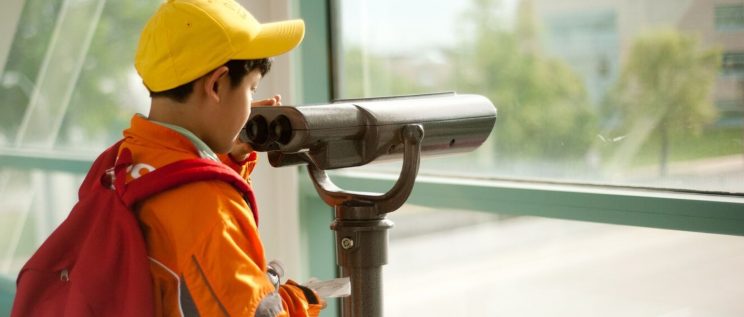 Accessibility
The Life Science Lab is accessible to visitors with disabilities, as well as visitors with strollers, scooters, and walkers. Elevators and ramps serve all public areas.