James S. McDonnell Planetarium
See the night sky in an entirely new way.
Our famous James S. McDonnell Planetarium is your gateway to the stars. Marvel as the world's best opto-mechanical star projector, the ZEISS UNIVERSARIUM Model IX, simulates the most realistic night sky on our 24-meter dome. Relax, discover and explore with one of our Planetarium Educators during one of our interactive shows. It's a stellar experience you won't soon forget.
Boeing Space Station and Orthwein Starbay
The Boeing Space Station features two levels of exhibits that illustrate the future of space travel, and the Orthwein StarBay's SBC Learning Center gives you a glimpse of what it's like to live and work on the International Space Station. In the Crew Quarters, you'll see how dwellers eat, exercise, sleep and dress in space, as well as how the crew meets medical needs and maintains the station's internal and external environments.
Please note: All Boeing Space Station exhibit areas are closed during Planetarium Shows. Guests will be asked to gather in the Orthwein StarBay during this time.
50 Years Of Apollo 12
50 years ago this week the second manned mission to the Moon had commenced, learn more about the Apollo 12 mission and crew

Star Projector
The StarBay's most amazing feature is the central open area dominated by our ZEISS UNIVERSARIUM Model IX. The UNIVERSARIUM projects more than 9,000 stars and deep sky objects onto a 24-meter dome, creating a brilliant star field.
Visitors can look up and see what the actual night sky would look like without the interference of weather, pollution or city lights.
Special features allow Planetarium staff to demonstrate eclipses, meteor showers and other celestial phenomena. The immensity and clarity of the view creates a sense of wonder that stimulates the imagination.

StarBridge
The StarBridge, located on the Planetarium's highest level, focuses on the navigation and operations essential for life in space. Exhibits demonstrate the roles that communication, astronomical research, power and exploration play in maintaining a space station. Note that StarBridge is only accessible to visitors who have purchased star show tickets, and is closed during star shows.
Illumination Requests
The exterior of the McDonnell Planetarium is illuminated nightly for all to enjoy. This illumination has helped raise awareness for charities and causes through special illumination requests.
Visit
Members stargaze for FREE!
Members can watch star shows for FREE every day at the Planetarium with a Saint Louis Science Center membership.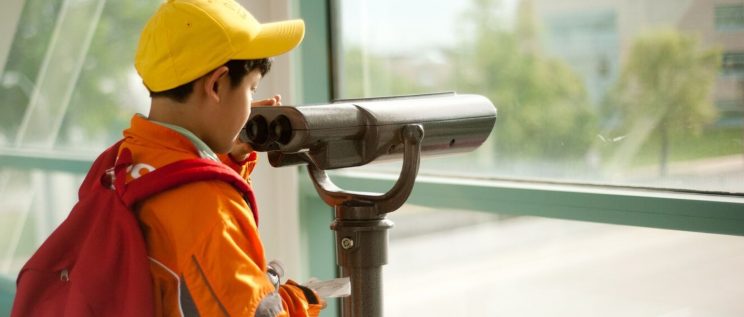 Accessibility
Elevators and ramps serve all public areas of the McDonnell Planetarium.
We also offer hearing assist devices for Planetarium star shows. When ordering tickets, please let your reservationist know you're interested in a hearing assist device, or see a Planetarium team member before your program begins.
Complete Braille guides are available for the Planetarium lobby's Liftoff: Space exhibit at the Planetarium box office upon request. The Liftoff gallery also offers tactile models of the Mercury and Gemini spacecraft, as well as models of the Planetarium's StarBay and building exterior. The models of the Mercury and Gemini spacecraft and StarBay feature large print materials for visitors thanks to a generous grant from Lighthouse for the Blind Saint Louis.
With advance notice, the Planetarium offers Feeling the Stars, a custom tactile program for visitors with vision impairments that pairs with The Little Star That Could. The Planetarium also offers Notre Ciel, an all-French version of our popular Live Sky Tonight star show, with advance notice.