OMNIMAX® Theater
One of just seven IMAX® Dome with Laser theaters in the world.
Come see our newly renovated theater!
Experience the re-imagination of the movie-going experience with our newly renovated OMNIMAX Theater featuring IMAX® with Laser. This state-of-the-art theater provides the sharpest images, unmatched sound quality and 40% greater color range than traditional theaters. The five-story, 80-foot-diameter dome will fill your entire field of vision providing a truly immersive experience.
OMNIMAX® Theater safety protocols
All staff members are required to wear masks.
All guests over the age of nine are required to wear masks.
Guest must wear masks for the entirety of the show unless eating or drinking.
Theater capacity is limited to 60 guests (normal capacity is 270), and the entire experience – lining up for the show, seating arrangements in the auditorium, and exiting the Theater – is organized and supervised by staff in order to ensure a safe distance between all parties in attendance, and Theater staff, at all times.

When you arrive at the Theater, staff will check guests' tickets. They will not physically take it or scan it. The print on the tickets has been enlarged so it can be read at a safe distance.
There are barriers and floor markings to guide guests in keeping a safe distance from others in line.
Seats will be assigned to guests by a staff member upon entry to the auditorium. The row in front of and behind all seated guests will be empty, and all parties will be separated by a minimum of two empty seats in their row.
Guests may be asked to wait a few moments before exiting the Theater so that there is no crowding at the exits.

The Theater's seats and all high-touch areas (handrails, door hardware, etc.) are cleaned prior to the first show of the day, and between every show throughout the day, with an EPA approved sanitizing cleaner.
Into America's Wild
From the Academy Award® nominated producers of the acclaimed hit film National Parks Adventure comes Into America's Wild, a visually stunning cross-country adventure into the hidden wonders of the natural world. A nonstop ride via kayak, bike, train, hot air balloon, zipline and more, Into America's Wild explores some of the most beautiful but little-known landscapes of North America, from the wilds of Alaska and the lush coastline of Oregon to the ancient canyons of the Southwest and the rolling hills of the Appalachian Trail. Setting out on this journey are three trailblazers — pioneering Native American astronaut John Herrington, Alaskan pilot and youth advocate Ariel Tweto, and record-breaking long-distance hiker Jennifer Pharr Davis — who share a passion for connecting people to experiences in the wild.
Pricing
Free for Members based on Membership Level
$10.95 Non-member adults
$8.95 children/seniors
$7.95 military
*$13.95 Combo (1 OMNIMAX ticket & 1 Planetarium ticket)


*Available at the box office only
Back From The Brink
Experience on the giant screen the remarkable true story of three animal species rescued from brink of extinction. Meet the scientists, park rangers and students working to save endangered animals around the world. Discover how California's enchanting 'Channel Island Fox' is rescued from an invasion of Golden Eagles, the fastest recovery of a species in the history of animal conservation. Join the former hunters of one of the world's most endangered primates, the Golden Monkey, now protect them in the fabled mountains of China's Yunnan Province. Witness the wondrous migration of the 'Christmas Island Red Crab,' and marvel at their recovery from a Crazy Yellow Ant infestation in one of the most successful bio-control experiments ever undertaken. Join this remarkable and heartfelt adventure to save endangered species around the world.
Pricing
Free for Members based on Membership Level
$10.95 Non-member adults
$8.95 children/seniors
$7.95 military
*$13.95 Combo (1 OMNIMAX ticket & 1 Planetarium ticket)


*Available at the box office only
Asteroid Hunters
Venture into deep space for a fascinating look at asteroids, their cosmic origins, and the potential threat they pose to our world with the IMAX® original film Asteroid Hunters. Narrated by Daisy Ridley, Asteroid Hunters introduces asteroid scientists – the best line of defense between Earth and an asteroid's destructive path – and reveals the cutting-edge tools and techniques they use to detect and track asteroids and the technology that may one day protect our planet.
Pricing
Free for Members based on Membership Level
$10.95 Non-member adults
$8.95 children/seniors
$7.95 military
*$13.95 Combo (1 OMNIMAX ticket & 1 Planetarium ticket)


*Available at the box office only
OMNIMAX® Theater Renovation – Projection Booth
Watch as the projection booth is transformed from film to laser projection.
April 9, 2020
OMNIMAX® Theater Renovation: In The Dome
In this time-lapse video, you can watch as all the work unfolds inside the dome.
September 24, 2019
OMNIMAX® Theater Renovation: Screen Removal
We are replacing the old Omnimax Theater screen with the NanoSeam™ screen by Spitz.
August 14, 2019
OMNIMAX® Theater Renovation: Film Projector, Seats Removed
Construction has begun in the OMNIMAX® Theater as crews remove the film projection system and the theater seats.
Membership
Members get free OMNIMAX tickets.
Become a Science Center member and receive free Omnimax tickets and discounted admission to feature films, as well as a full year of additional members-only benefits.
Plus, members help support the Science Center and our mission to make science learning open to everyone.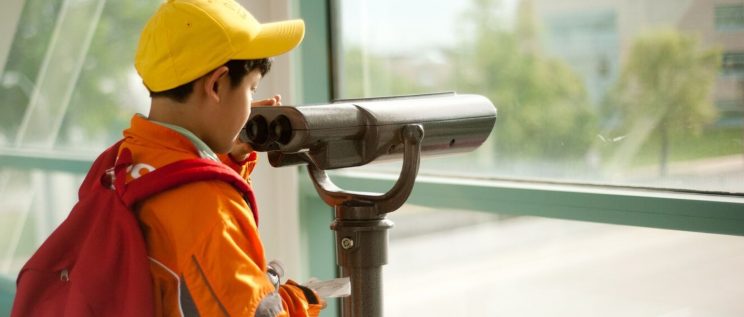 Accessibility
Convenient wheelchair accessible seating for the OMNIMAX is available via the third floor theater entrance. Elevators and ramps serve all public areas of the OMNIMAX.
OMNIMAX offers hearing assistance that is not available in any theater in the region. This includes new adjustable caption devices, new hearing assistance devices with Descriptive Video Services(DVS) and Telecoil. DVS/Descriptive Narration is available for all films unless otherwise noted. When ordering tickets, please let your reservationist know you're interested in these items, or see an usher before your film begins.
Subscribe for the latest news and events.