OMNIMAX® Theater
Five stories high – with hundreds of stories to share.
Don't just watch a movie. Be part of one. At the Saint Louis Science Center OMNIMAX® – also known as an IMAX Dome® Theater – crystal clear images projected on our five-story, 79-foot-diameter dome will fill your entire field of vision. Experience 14,400 watts of surround sound and six channels of thunderous audio for a truly immersive experience.
Price
This is a paid experience.
Children (ages 2-12): $9
Adults (ages 13-59): $10
Seniors (ages 60+): $9
College Students with ID: $9
Military: $7
Members: Free tickets based on membership level
Summer Value Packages
Up to 30% Savings
| Discovery Pass | Flight Pass |
| --- | --- |
| OMNIMAX® Theater Ticket | OMNIMAX® Theater Ticket |
| Planetarium Star Show Ticket | Planetarium Star Show Ticket |
| Discovery Room Ticket | Flight Simulator Ride Ticket |
| $17.95 | $17.95 |
Summer Value Packages are available at the Science Center or over the phone. Call us at 314.289.4400 to reserve your package or purchase them at our Box Office in the main lobby or Planetarium lobby today.
Offer available only until July 28, 2019
OMNIMAX Theater will be transformed with next-generation IMAX® with Laser. The Theater will be temporarily closing July 29 and reopening in late November. Learn more about the new features.
The OMNIMAX is a large format, IMAX® 70 mm film projection system. Films are projected onto a giant dome screen with unsurpassed resolution and impact.
IMAX film is the largest film frame in motion picture history, 10 times the size of a standard 35 mm frame and three times the size of standard 70 mm frames.
In just 45 minutes, the projector moves more than 13,500 feet of film (2.5 miles!) at 24 frames per second. The projector houses a water-cooled, 15,000-watt pressurized xenon arc lamp with a light output of more than 600,000 lumens.
Thanks to a glass-enclosed projection room, you can watch as the Projectionist loads the projector and elevates it into position.
Visit
Members watch FREE.
Watch for FREE with a Saint Louis Science Center membership.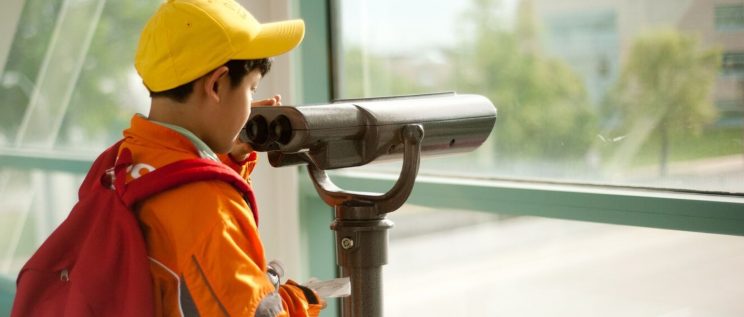 Accessibility
Convenient wheelchair accessible seating for the OMNIMAX is available via the third floor theater entrance. Elevators and ramps serve all public areas of the OMNIMAX.
OMNIMAX offers the Rear Window® captioning service for all films at all showtimes, unless otherwise noted. Assisted listening devices are also available. When ordering tickets, please let your reservationist know you're interested in Rear Window captioning, or see an usher before your film begins.