OMNIMAX® Theater
One of just seven IMAX® Dome with Laser theaters in the world.
Experience the re-imagination of the movie-going experience at the OMNIMAX Theater featuring IMAX® with Laser. This state-of-the-art theater provides the sharpest images, unmatched sound quality and 40% greater color range than traditional theaters. The five-story, 80-foot-diameter dome will fill your entire field of vision providing a truly immersive experience.
OMNIMAX® Theater safety protocols
In accordance with St. Louis City guidelines, all individuals ages 5 and up will be required to wear face masks, regardless of vaccination status.
Theater capacity has been reduced to provide ample room for social distancing.
Theater seats and high-touch areas are cleaned regularly throughout the day.
No Time To Die
In "No Time To Die," Bond has left active service and is enjoying a tranquil life in Jamaica. His peace is short-lived when his old friend Felix Leiter from the CIA turns up asking for help. The mission to rescue a kidnapped scientist turns out to be far more treacherous than expected, leading Bond onto the trail of a mysterious villain armed with dangerous new technology.
RATING: PG-13
RUNTIME: 164 minutes
Pricing
$11.95* Members
*Free Membership OMNIMAX Theatre tickets are not available for "No Time to Die."
$16.95 Non-member adults
$14.95 children/seniors
$14.95 military
Into America's Wild
From the Academy Award® nominated producers of the acclaimed hit film National Parks Adventure comes Into America's Wild, a visually stunning cross-country adventure into the hidden wonders of the natural world. A nonstop ride via kayak, bike, train, hot air balloon, zipline and more, Into America's Wild explores some of the most beautiful but little-known landscapes of North America, from the wilds of Alaska and the lush coastline of Oregon to the ancient canyons of the Southwest and the rolling hills of the Appalachian Trail. Setting out on this journey are three trailblazers — pioneering Native American astronaut John Herrington, Alaskan pilot and youth advocate Ariel Tweto, and record-breaking long-distance hiker Jennifer Pharr Davis — who share a passion for connecting people to experiences in the wild.
Pricing
Free for Members based on Membership Level
$10.95 Non-member adults
$8.95 children/seniors
$7.95 military
Humpback Whales
Narrated by two-time Golden Globe® nominee Ewan McGregor, "Humpback Whales" is an extraordinary journey into the mysterious world of one of nature's most awe-inspiring marine mammals. Set in the spectacular waters of Alaska, Hawaii and the remote islands of Tonga, this ocean adventure offers audiences an up-close look at how these whales communicate, sing, feed, play and take care of their young. Found in every ocean on earth, humpbacks were nearly driven to extinction 50 years ago, but today are making a slow but remarkable recovery. Join a team of researchers as they unlock the secrets of the humpback and find out why they are the most acrobatic of all whales, why they sing their haunting songs, and why these intelligent, 55-foot, 50-ton animals migrate up to 10,000 miles round-trip every year.
Pricing
Free for Members based on Membership Level
$10.95 Non-member adults
$8.95 children/seniors
$7.95 military
OPENS SEPTEMBER 11

Back From The Brink
Experience on the giant screen the remarkable true story of three animal species rescued from brink of extinction. Meet the scientists, park rangers and students working to save endangered animals around the world. Discover how California's enchanting 'Channel Island Fox' is rescued from an invasion of Golden Eagles, the fastest recovery of a species in the history of animal conservation. Join the former hunters of one of the world's most endangered primates, the Golden Monkey, now protect them in the fabled mountains of China's Yunnan Province. Witness the wondrous migration of the 'Christmas Island Red Crab,' and marvel at their recovery from a Crazy Yellow Ant infestation in one of the most successful bio-control experiments ever undertaken. Join this remarkable and heartfelt adventure to save endangered species around the world.
Pricing
Free for Members based on Membership Level
$10.95 Non-member adults
$8.95 children/seniors
$7.95 military
OMNIMAX® Theater Renovation – Projection BoothWatch as the projection booth is transformed from film to laser projection.
April 9, 2020
OMNIMAX® Theater Renovation: In The Dome
In this time-lapse video, you can watch as all the work unfolds inside the dome.
September 24, 2019
OMNIMAX® Theater Renovation: Screen Removal
We are replacing the old Omnimax Theater screen with the NanoSeam™ screen by Spitz.
August 14, 2019
OMNIMAX® Theater Renovation: Film Projector, Seats Removed
Construction has begun in the OMNIMAX® Theater as crews remove the film projection system and the theater seats.
Membership
Members get free OMNIMAX tickets.
Become a Science Center member and receive free Omnimax tickets and discounted admission to feature films, as well as a full year of additional members-only benefits.
Plus, members help support the Science Center and our mission to make science learning open to everyone.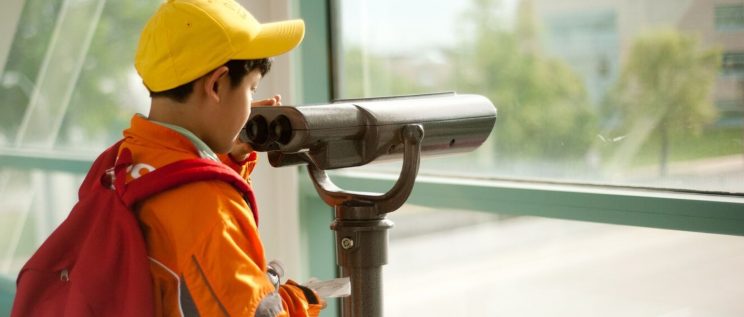 Accessibility
Convenient wheelchair accessible seating for the OMNIMAX is available via the third floor theater entrance. Elevators and ramps serve all public areas of the OMNIMAX.
OMNIMAX offers hearing assistance that is not available in any theater in the region. This includes new adjustable caption devices, new hearing assistance devices with Descriptive Video Services(DVS) and Telecoil. DVS/Descriptive Narration is available for all films unless otherwise noted. When ordering tickets, please let your reservationist know you're interested in these items, or see an usher before your film begins.