Esports Program
Inspired by the tremendous success of our innovative GameXPloration gallery, where guests explore the intersection between play and learning, the Saint Louis Science Center is excited to launch our newest experience where we explore the world of Esports. Join us on this journey as we explore educational, career, and play opportunities in the esports industry.
Upcoming Enrichment Program – Sunday May 2, 2021
Game On: Early Access
Create a world all your own! Explore the basics of game design with our experienced instructors. Perfect for beginners to connect their imaginations with the languages of game design and development.
The program will consist of:
Game Design & Development
Lunch
Competitive game play: Rocket League
| When | Sunday, May 2, 2021 |
| --- | --- |
| Cost | $35, boxed lunch included |
| Hours | 11:30 AM to 3:30 PM |
| Age Range | 10 years to 13 years |
| Game Offering | Rocket League™ |
| Skill Level | All Levels |
| Availability | 8 spots |
Registration
To register for this Esports Enrichment Program, call us at 314.289.4424.
Spots are limited!
Upcoming Free Play Sessions
Games include Fortnite™, Super Smash Bros™, Rocket League™, Madden NFL™ and more.
Attendees include top St. Louis gamers, Esports programs from local high schools and colleges, along with other partners
Experience career exploration and STEAM educational opportunities
See what it takes and best practices to put on a live Esports event
Follow us on Twitch (@STLScienceCenter) to view the live streamed competitions
These daily productions will be programmed and produced by our Community Science department, and specifically our Youth Exploring Science team members.
Participants must be 7 years and older, and those under 18 will need permission from a guardian
Projected as a $1 billion dollar industry in 2020, esports is one of the fastest growing sports industries. Spots will fill up fast! Be sure to register today.
Safety Protocols for Esports Open Play and Competitions
Limited occupancy in competition space
Guests will abide by Science Center mask policy. All participants, regardless of age will be required to wear a mask or a face shield.
Participants are encouraged to bring their own controllers to prevent spread of germs. Controllers are provided by Science Center as needed, but will be disinfected between use.
A designated food and beverage area will be established.
Chairs for guests will be physically distanced and disinfected between use.
Hand sanitizer will be available for guests inside the competition space.
For our full list of policies and guidelines for coming to the Science Center, please view how to Explore Safe. **Note, you will need general admission tickets for the Science Center, which are free. It is encouraged to get them ahead of time.
Esports are a form of competition using video games. Over the past few years, the esports industry has grown tremendously, selling out arenas, generating millions of views on streaming networks and offering players from all backgrounds an opportunity to succeed on a professional level. In addition, top universities are recruiting gamers for esports programs at the collegiate level.
The Science Center recognizes the benefits that esports offer kids, including social growth, cognitive improvement, problem solving and critical thinking, and enhanced motor skills. Additionally, esports bring together a variety of diverse players from all backgrounds and ages, offering a level playing field where skill is not directly correlated with age. The esports field utilizes many 21st century skills, offering a unique ability to connect multiple disciplines across STEAM career fields from computer science and game design to engineering and healthcare.
---
Upcoming Educational Offerings in 2021
Did you know many of the world's leading professionals in science and technology trace their interest and aptitude for their fields back to gaming? Our unique experience provides kids of all ages with the chance to explore STEAM (science, technology, engineering, art and math) through the video games they love.
STEAM Topics
Our program will focus on the following topics:
Technology
Art & Music
Media Broadcast & Events
Psychology and Physiology
Path to Pro
Participants are provided with two potential paths in the esports industry. The first allows participants the opportunity to grow their gaming skills by connecting them with esports coaches and by providing competition settings to test their skills. This path also aims to connect top local gamers with collegiate level coaches.
The second allows participants to explore potential career opportunities in the esports industry by connecting them with STEAM industry professionals. This path allows participants to identify careers they find interesting and explore the skill sets needed to successfully obtain these positions.
Both paths are available through unique onsite and online structures in collaboration with our program partners. Additionally, both paths provide participants with the ability to make connections both locally and nationally in the esports industry.
Program Information
The Esports Program is available in mulitple parts.
More details coming soon, dates and times subject to change!
Virtual Camps: In partnership with national esports organizations, participants can engage coaches and esports professionally virtually through secure online platforms. These experiences can range in timeframe. Please contact us through the form below for more information.
Community Programs: Our custom community programs provide both schools and community organizations with a structured learning environment. These programs combine play and learning to dive into the specific STEAM connections in esports. Programs can be catered to the organization. Please contact us through the form below for more information.
Questions
Do you have questions about the Esports Enrichment Program? Do you need more information? Reach out to our Esports team and they will respond with the answers you need.
Founding Sponsor

Connect with a universe of games.

Welcome to a universe of games, a universe that does not follow the dimensions of space and time, where you will play to learn and learn to play. See what games reveal about us. They allow us to explore new identities, relate to others, and grow more competent in skills like critical thinking and problem-solving. Explore a universe of games and see yourself in a whole new dimension: as a gamer.
Connect with your museum. Support science for everybody.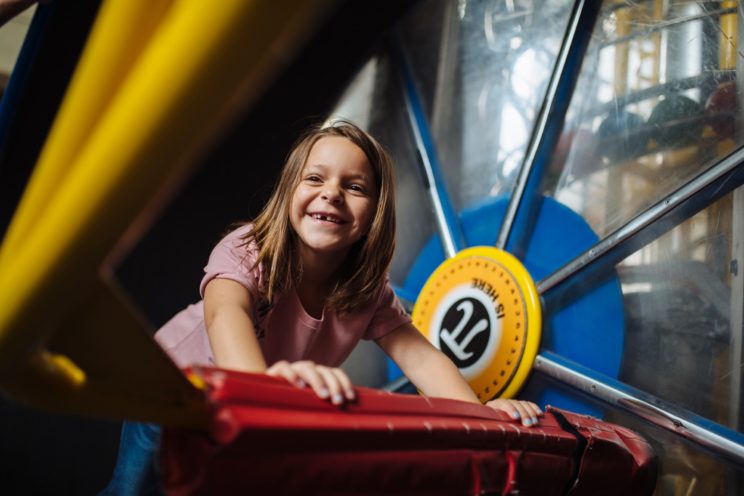 As a non-profit organization and a free museum in the St. Louis community, we rely on memberships, donations, and ticket sales to continue bringing our community access to science education. Every dollar helps our educators and team provide you with illuminating ah-ha moments through shared experiences at the Science Center. If you believe in our mission, please consider purchasing a membership, gifting a membership, or making a donation. Your membership helps the continued development of innovative exhibits, educational programs, and events that ignite and sustain a passion for science and technology throughout our community.