Esports Enrichment Program
Inspired by the tremendous success of our innovative GameXPloration gallery, where guests explore the intersection between play and learning, the Saint Louis Science Center is excited to launch our newest online educational experience, the Esports Enrichment Program Powered by Nerd Street Gamers.
Did you know many of the world's leading professionals in science and technology trace their interest and aptitude for their fields back to gaming? Presented in partnership with Nerd Street Gamers, this unique virtual experience provides kids ages 12 to 18 with the chance to explore STEAM (science, technology, engineering, art and math) through the online games they love. The program combines the chance for participants to enhance their playing abilities in a secure online environment with the opportunity to hear from STEAM industry professionals about potential future career paths inspired by a passion for gaming.
The Esports Enrichment Program Powered by Nerd Street Gamers is a week-long experience for kids ages 12 to 18. Participants will choose between courses focused on Fortnite (rated T for teens; program for ages 13 to 18) or Rocket League (rated E for everyone; program for ages 12 to 18).
The program includes:
Group instruction
One-on-one instruction from top gaming coaches
Daily STEAM seminars from industry professionals
The week will culminate with tournament-style play where participants get to show off the skills they've learned throughout the course. Each week-long program will run Monday through Friday, from 10:00 a.m. to 3:00 p.m. CST. Registration is $150 per participant.
| DETAILS | |
| --- | --- |
| Dates | August 17-21 /August 24-28 |
| Hours | 10:00 AM to 3:00 PM |
| Cost | $150 |
| Rocket League Ages | 12 to 18 |
| Fortnite Ages | 13 to 18 |
This is an at-home virtual esports enrichment program.
Technology Requirements
Own Rocket League or Fortnite on PC or console (not provided).
Access to Discord for chatting.
Webcam is recommended but not required.
Esports are a form of competition using video games. Over the past few years, the esports industry has grown tremendously, selling out arenas, generating millions of views on streaming networks and offering players from all backgrounds an opportunity to succeed on a professional level. In addition, top universities are recruiting gamers for esports programs at the collegiate level.
The Science Center recognizes the benefits that esports offer kids, including social growth, cognitive improvement, problem solving and critical thinking, and enhanced motor skills. Additionally, esports bring together a variety of diverse players from all backgrounds and ages, offering a level playing field where skill is not directly correlated with age. The esports field utilizes many 21st century skills, offering a unique ability to connect multiple disciplines across STEAM career fields from computer science and game design to engineering and healthcare.
Rocket League (Ages 12-18)
---
Fortnite (Ages 13-18)
Questions
Do you have questions about the Esports Enrichment Program? Do you need more information? Reach out to our Esports team and they will respond with the answers you need.
Official Partner
Connect with a universe of games.

Welcome to a universe of games, a universe that does not follow the dimensions of space and time, where you will play to learn and learn to play. See what games reveal about us. They allow us to explore new identities, relate to others, and grow more competent in skills like critical thinking and problem-solving. Explore a universe of games and see yourself in a whole new dimension: as a gamer.
Connect with your museum. Support science for everybody.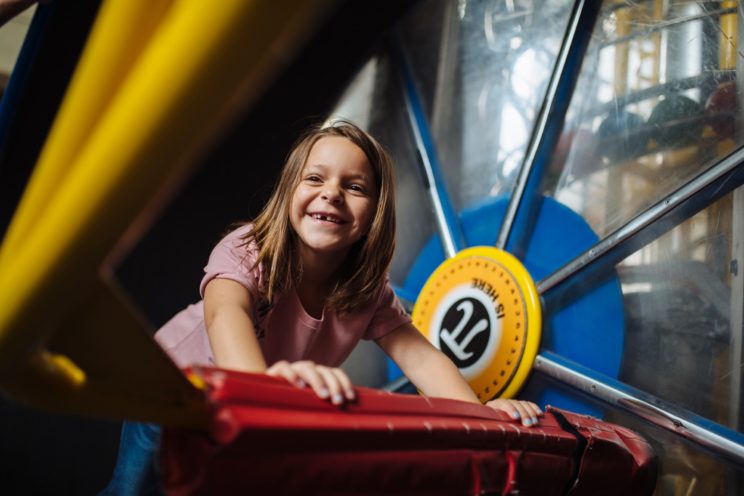 As a non-profit organization and a free museum in the St. Louis community, we rely on memberships, donations, and ticket sales to continue bringing our community access to science education. Every dollar helps our educators and team provide you with illuminating ah-ha moments through shared experiences at the Science Center. If you believe in our mission, please consider purchasing a membership, gifting a membership, or making a donation. Your membership helps the continued development of innovative exhibits, educational programs, and events that ignite and sustain a passion for science and technology throughout our community.