Mission: Mars
Mission: Mars
Experience the Red Planet.
Explore the red planet and learn about the science and technology that got us there by visiting Mission: Mars. Developed by the Saint Louis Science Center in partnership with NASA and Washington University in St. Louis, this unique exhibit has two parts to explore: Mission Control and Mars Base, located on opposite sides of our Skybridge.
Price
This exhibit is free.
Mission: Mars Mission Control
Assume the role of a NASA engineer and experience current day exploration of Mars. Design and build a robotic rover to traverse the red planet and discover the challenges of navigating with a simulated time delay, all while seeing Mars from the perspective of your rover. Mission Control is located on the second floor of the Oakland Building.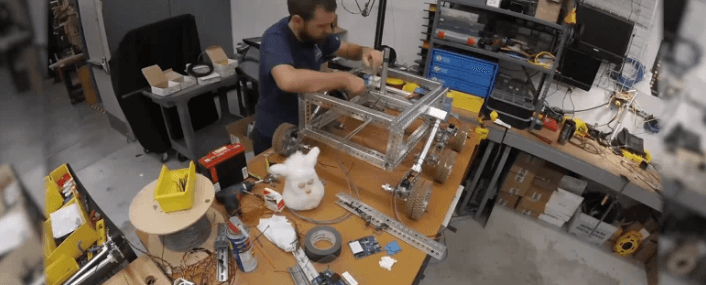 Mars Rover Replica Build
Have you ever seen the Mars rover replica at the Science Center? It was actually built by the talented folks in our Exhibit Electronics Department. Here's a behind-the-scenes look as Collin and Nathan put it together. Think of it as a giant Erector Set that took roughly 55 hours to complete!
Mission: Mars Base
Welcome to the future of Mars exploration! You'll be transported to Mars at some point in the distant future. Taking on the role of an astronaut living and working on Mars, you'll perform science operations at key locations on the planet. You'll use two specially designed rovers, Intrepid and Adventure, which closely resemble the rovers currently exploring the red planet. Mars Base is located across the Skybridge at the McDonnell Planetarium, P1.
Visit
Space Science Programs for Groups
The Science Center offers a wide variety of astronomy-themed programs tailored to specific groups and audiences.
Accessibility
Mission: Mars is accessible to visitors with disabilities, as well as visitors with strollers, scooters, and walkers. Elevators and ramps serve all public areas.