Planetarium Shows
A beautiful, realistic, simulated night under our 80-foot dome.
Come visit the James S. McDonnell Planetarium and see a star show to experience the largest artificial sky in the Western Hemisphere. Star shows are lead LIVE by one of our Planetarium Educators creating a new and tailored experience for every audience. Shows include a 40-45 minute Planetarium show in the Orthwein StarBay and a self-guided tour of the Boeing Space Station exhibits.
Welcome back to your science center.
To our guests, members and donors, learn about how you can Explore Safe here.
Price
This is a paid experience.
Adults (ages 13-59): $6
Children (ages 2-12) / Seniors (ages 60+): $5
Military: $4
Members: Free
Planetarium SHows
Current Star Show Schedule
Shows are subject to change. Please call ahead at 314.289.4400 to confirm show availability during the times listed.
Current Show Descriptions
Exploring the solar system – and worlds beyond our own – is not science fiction. Gateway to the Solar System empowers audience members to discover planets, moons, and more by simply looking up.
People throughout history have filled our night sky with constellations, but why do these patterns matter? Join us for this live star show as we explore the shapes and lore that have helped to guide people's understanding of the cosmos.
Relax under the clearest night sky in St. Louis as our skilled presenters lead you on tour of the best the night has to offer. This live show is different every time, so stop back again to discover the changing stars, planets, and other celestial events visible from your own backyard.
Teachers: This show is recommended for all age groups and can be tailored to fit a particular age group.
The Little Star That Could
A tradition in St. Louis for over 30 years! Developed for our youngest stargazers, experience the timeless story of an "average" star in search of what makes him special. Along his journey, we will discover the differences of stars, planets, and galaxies in the night sky.
Note: Not a live performance
Membership
Members stargaze for free.
Love the Planetarium? Become a Science Center member and watch star shows for free with every visit, as well as get a full year of additional members-only benefits.
Plus, members help support the Science Center and our mission to make science learning open to everyone.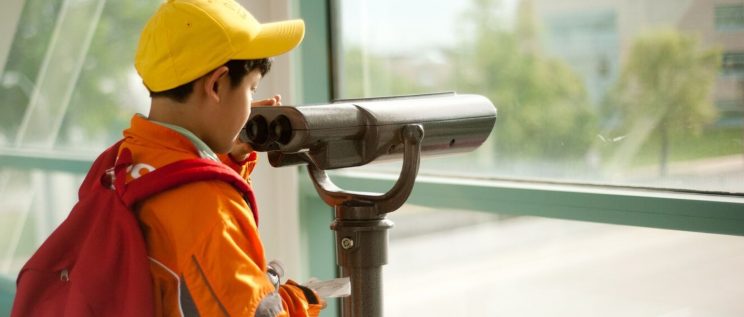 Accessibility
Elevators and ramps serve all public areas of the McDonnell Planetarium.
We also offer hearing assist devices for Planetarium star shows. When ordering tickets, please let your reservationist know you're interested in a hearing assist device, or speak with a Planetarium team member before your program begins.