Planetarium Shows
Experience a beautiful, realistic, simulated night on our 24-meter dome.
Come visit the James S. McDonnell Planetarium and see a star show featuring our ZEISS UNIVERSARIUM Model IX projector, the first and only in the Americas to use brilliant, sustainable LEDs. Shows are hourly on the half hour and include a 30-minute Planetarium show in the Orthwein StarBay and a self-guided tour of the Boeing Space Station after the show.
Price
This is a paid experience.
Adults (ages 13-59): $6
Children (ages 2-12) / Seniors (ages 60+): $5
Military: $4
Members: Free
| Virtual Pass | Discovery Pass | Flight Pass | Stargazer Pass |
| --- | --- | --- | --- |
| 1 Virtual Reality Transporter Ticket | 1 Discovery Room Ticket | 1 Motion or 360 Flight Simulator Ride | 1 Da Vinci The Exhibition Ticket |
| 1 Motion Simulator Ride | 1 Planetarium Ticket | 1 Planetarium Ticket | 1 Planetarium Ticket |
| 1 360 Flight Simulator Ride | 1 Omnimax Theater Ticket (Documentary) | 1 Omnimax Theater Ticket (Documentary) | |
| Price: $18.95 | Price: $18.95 | Price: $18.95* | Price: $18.95 |
Value Passes are available at the Science Center on site only. You can purchase them at our Box Office in the main lobby or Planetarium lobby today.
*You can substitute a Virtual Reality Transporter Ticket for Similator Tickets on the Flight Pass for an additional $3
Planetarium SHows
Current Star Show Schedule
Shows are subject to change. Please call ahead at 314.289.4400 to confirm show availability during the times listed.
Live Sky: Magnificent Moon
In this star show we will explore a few of the myths, phenomena, misconceptions and hoaxes related to the Moon and the Apollo Program to better understand our silent neighbor in space and to show how anyone can study and explore the Moon from our backyards. After the star show visitors can join Planetarium staff as they continue to explore concepts related to the Moon through demonstrations.
Live Sky: The Constellations
For ancient astronomers, the constellations were not only the products of scientific pursuits but often times also served as a means to understand their world and their very existence. Cultures around the world developed rich traditions seeped in astronomy that included their own interpretation of the constellations. Join us for this live presentation as we explore all about the constellations in our night skies.
The Little Star That Could
The story of an "average" star who travels the universe in search of planets. Along the way he makes many discoveries about stars, planets, galaxies and himself. We also offer Feeling the Stars, a version of The Little Star That Could adapted for children who are blind or have low vision. Please call 314.289.4400 for more information.
See what is currently visible in the night sky including constellations, planets, the current Moon phase and any other special astronomical events such as meteor showers or comets, etc. We will also feature current space exploration such as the rovers on Mars.
Teachers: This show is recommended for all age groups and can be tailored to fit a particular age group.
Born in a time of intense political intrigue, satellites have been circling the earth since the late 1950's. Today's world has become heavily dependent on these "metal moons" some of which are even visible from your own backyard! See "Metal Moons" today and learn more about artificial satellites and find out how you can actually spot some of them orbiting high overhead.
People have been fascinated with Mars from the time humans began observing the planet thousands of years ago. Learn how observing the red planet has helped us develop a better understanding of solar system and our place with in it. See how humans have observed Mars through the aid of telescopes and robotic explorers and experience how future astronauts may view stars from a Mars base.
Developed for Young Learners, gather around the campfire and discover the many changes we see when day changes to night throughout the year. Hear the seasonal sounds of nature and see stars twinkle across the sky as the wonders of the Earth's cycle are revealed.
Members stargaze for FREE!
Members can watch star shows for FREE every day at the Planetarium with a Saint Louis Science Center membership.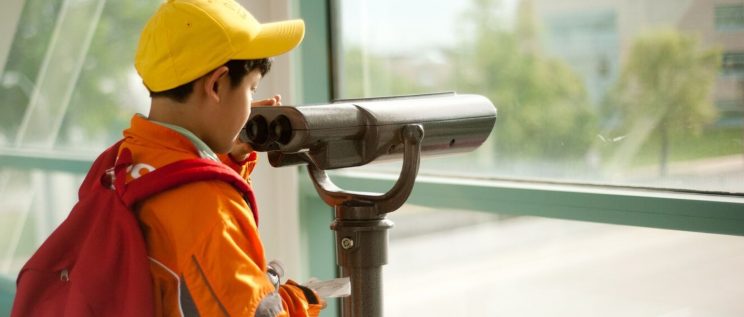 Accessibility
Elevators and ramps serve all public areas of the McDonnell Planetarium.
We also offer hearing assist devices for Planetarium star shows. When ordering tickets, please let your reservationist know you're interested in a hearing assist device, or speak with a Planetarium team member before your program begins.
With advance notice, the Planetarium offers Feeling the Stars, a custom tactile program for visitors with vision impairments that pairs with The Little Star That Could.