Planetarium Shows
A beautiful, realistic, simulated night under our 80-foot dome.
Come visit the James S. McDonnell Planetarium and see a star show to experience the largest artificial sky in the Western Hemisphere. Star shows are lead LIVE by one of our Planetarium Educators creating a new and tailored experience for every audience. Shows are hourly on the half hour and include a 40-45 minute Planetarium show in the Orthwein StarBay and a self-guided tour of the Boeing Space Station exhibits.
Price
This is a paid experience.
Adults (ages 13-59): $6
Children (ages 2-12) / Seniors (ages 60+): $5
Military: $4
Members: Free
| Virtual Pass | Discovery Pass | Flight Pass | Stargazer Pass |
| --- | --- | --- | --- |
| 1 Virtual Reality Transporter Ticket | 1 Discovery Room Ticket | 1 Motion or 360 Flight Simulator Ride | 1 Da Vinci The Exhibition Ticket |
| 1 Motion Simulator Ride | 1 Planetarium Ticket | 1 Planetarium Ticket | 1 Planetarium Ticket |
| 1 360 Flight Simulator Ride | 1 Omnimax Theater Ticket (Documentary) | 1 Omnimax Theater Ticket (Documentary) | |
| Price: $18.95 | Price: $18.95 | Price: $18.95* | Price: $18.95 |
Value Passes are available at the Science Center on site only. You can purchase them at our Box Office in the main lobby or Planetarium lobby today.
*You can substitute a Virtual Reality Transporter Ticket for Similator Tickets on the Flight Pass for an additional $3
Planetarium SHows
Current Star Show Schedule
Shows are subject to change. Please call ahead at 314.289.4400 to confirm show availability during the times listed.
There are no upcoming events at this time.
Exploring the solar system – and worlds beyond our own – is not science fiction. Gateway to the Solar System empowers audience members to discover planets, moons, and more by simply looking up.
The Moon is our silent companion, but how much do you really know about the Earth's natural satellite? Get up close and personal with our magnificent neighbor in this live show as we tackle myths, phenomena, and misconceptions about the Moon and NASA's Apollo Program.
People throughout history have filled our night sky with constellations, but why do these patterns matter? Join us for this live star show as we explore the shapes and lore that have helped to guide people's understanding of the cosmos.
The Little Star That Could
A tradition in St. Louis for over 30 years! Developed for our youngest stargazers, experience the timeless story of an "average" star in search of what makes him special. Along his journey, we will discover the differences of stars, planets, and galaxies in the night sky.
Note: Not a live performance
Relax under the clearest night sky in St. Louis as our skilled presenters lead you on tour of the best the night has to offer. This live show is different every time, so stop back again to discover the changing stars, planets, and other celestial events visible from your own backyard.
Teachers: This show is recommended for all age groups and can be tailored to fit a particular age group.
Born in a time of intense political intrigue, satellites have been circling the earth since the late 1950's. Today's world has become heavily dependent on these "metal moons" some of which are even visible from your own backyard! See "Metal Moons" today and learn more about artificial satellites and find out how you can actually spot some of them orbiting high overhead.
People have been fascinated with Mars from the time humans began observing the planet thousands of years ago. Learn how observing the red planet has helped us develop a better understanding of solar system and our place with in it. See how humans have observed Mars through the aid of telescopes and robotic explorers and experience how future astronauts may view stars from a Mars base.
Gather around our campfire and observe the many changes we see when day fades to night in this interactive star show. Using patterns found in the stars, we will retell stories from across the globe and explore how these tales can help to explain an ever-changing world. Best for young stargazers.
Members stargaze for FREE!
Members can watch star shows for FREE every day at the Planetarium with a Saint Louis Science Center membership.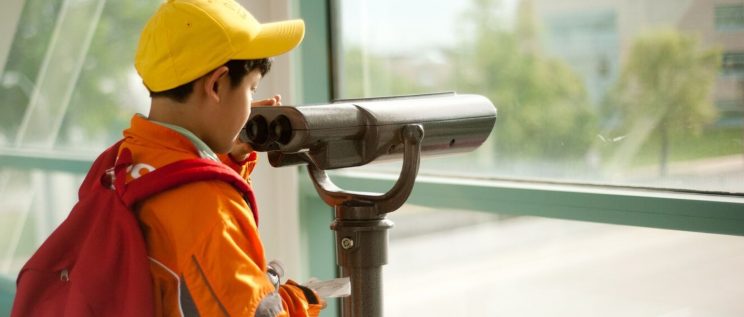 Accessibility
Elevators and ramps serve all public areas of the McDonnell Planetarium.
We also offer hearing assist devices for Planetarium star shows. When ordering tickets, please let your reservationist know you're interested in a hearing assist device, or speak with a Planetarium team member before your program begins.