This is the Saint Louis Science Center's NIGHT SKY UPDATE for the week of Friday, February 26, 2021.
Information updated weekly or as needed.
Times given as local St. Louis time which is Central Standard Time (CST). For definitions of terminology used in the night sky update, click the highlighted text. If relying on times posted in Universal Time (UT), St. Louis is now -6 Hours from UT.
Public Telescope Viewings
Star parties at the Saint Louis Science Center have temporarily been canceled due to recommendations from the CDC regarding COVID-19. All public telescope events are canceled until further notice. As conditions change, we will reevaluate and update this article once public observing events resume.
Observing Highlight of the Week
The highlight for this week is the return of the planets Jupiter and Saturn. After their great conjunction on December 21, 2020, these giant planets were quickly lost to the glare of the Sun. As February ends, Jupiter and Saturn are returning to the morning sky seen just before sunrise.
Jupiter and Saturn will be a challenge for us to see this week due to how close they appear to the Sun in the sky. Generally, 40 minutes before sunrise is when the brightness from morning twilight will begin to overwhelm all but the brighter targets. Using this as a reference, on February 26, 2021, both planets will be under 10° above the horizon at this time. I tend to use 10° as a cutoff for most views because of buildings and tree lines most observers will be dealing with. Under 10°, things become difficult to find. That said, there are places that do allow views under that 10° mark and if you have such a view, you might catch a glimpse of Jupiter, Saturn and Mercury this week 40 minutes before sunrise.
On February 26, all three planets will be found low in the east southeast: Saturn at 7.0°, Mercury at 6.1° and Jupiter at 4.2° above the horizon. By March 6, 2021, you will find Saturn at 9.4°, Jupiter at 5.0° and Mercury at 4.6° above the ESE horizon. By the end of March Mercury will be gone But Jupiter and Saturn will be easy targets before sunrise.
One thing you might notice is how far apart Jupiter and Saturn now appear. Back in December they appeared so close they almost appeared as one object to the unaided eye. Now they are 7° apart from one another. Seven degrees in just a few months is a great confirmation that the planets move. By the end of 2021, Jupiter and Saturn will be just over 17° apart.
For the 2021 apparitions of Jupiter and Saturn, there are a few points of interest to keep track of. Each month, the Moon will pass by both planets. The separation between the planets and the Moon during these conjunctions will be around 4° most months. Opposition for Saturn occurs on August 2, 2021 and opposition for Jupiter occurs on August 19, 2021. July through September will be the ideal months to view these planets through telescopes.
The Sun and Moon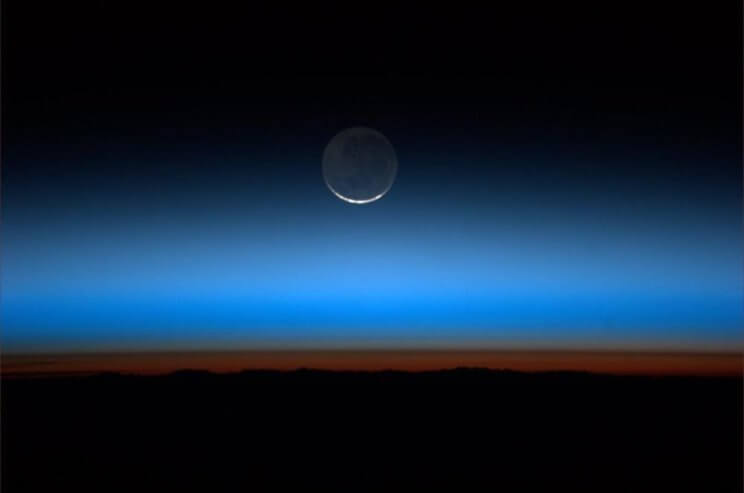 The Moon as seen from the International Space Station, on July 31, 2011.
Credit: NASA
Sunrise is at 6:37 a.m. on Friday, February 26 and sunset is at 5:51 p.m. providing us roughly 10.5 hours of daylight. Even after sunset, the light from the Sun will dimly illuminate our sky for about 1 hour and 40 minutes. This period is called twilight, which ends around 7:20 p.m. this week. For those with a sundial, local noon occurs around 12:14 p.m. this week.
| Day | Sunrise | Sunset |
| --- | --- | --- |
| 2021-02-26 | 6:37 a.m. | 5:51 p.m. |
| 2021-02-27 | 6:36 a.m. | 5:52 p.m. |
| 2021-02-28 | 6:34 a.m. | 5:53 p.m. |
| 2021-03-01 | 6:33 a.m. | 5:54 p.m. |
| 2021-03-02 | 6:31 a.m. | 5:55 p.m. |
| 2021-03-03 | 6:30 a.m. | 5:56 p.m. |
| 2021-03-04 | 6:29 a.m. | 5:58 p.m. |
| 2021-03-05 | 6:27 a.m. | 5:59 p.m. |
| 2021-03-06 | 6:26 a.m. | 6:00 p.m. |
Moon 
Moonrise for Friday, February 26 occurs at 5:15 p.m. and moonset will occur at 7:09 a.m. on the follow day. On Friday, February 26 the Moon will exhibit a waxing gibbous phase with 99% of the lunar disk illuminated. Full moon occurs on February 27 at 2:17 a.m.
International Space Station (ISS) Observing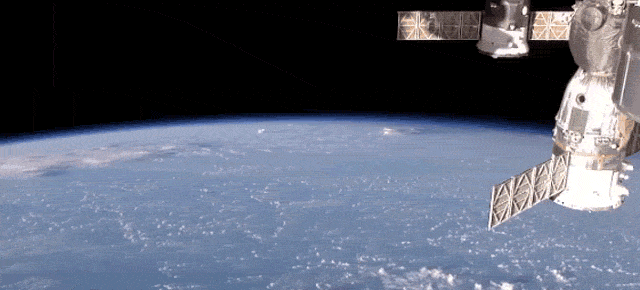 There are several passes of ISS this week however most of them will be too low to the horizon and obscured by trees and buildings. The only decent visible pass of ISS from St. Louis for the week of February 26 occurs in the morning hours on March 5. Use the table below for information about this pass.
Catch ISS from St. Louis starting Friday, February 26
| Date | | Starts | | | Max. altitude | | | Ends | | |
| --- | --- | --- | --- | --- | --- | --- | --- | --- | --- | --- |
| | | Time | Alt. | Az. | Time | Alt. | Az. | Time | Alt. | Az. |
| 05 Feb | -1.1 | 05:43:38 | 10 | NNW | 05:45:41 | 15 | NNE | 05:47:44 | 10 | ENE |
Magnitude (Mag): The Measure of brightness for a celestial object.  The lower the value is, the brighter the object will be.
Altitude (Alt):  The angle of a celestial object measured upwards from the observer's horizon.
Azimuth (Az):  The direction of a celestial object, measured clockwise from an observer's location with north being 0°, east being 90°, south being 180° and west being 270°.
For information about ISS flyovers and other visible satellites, visit www.heavens-above.com
Detailed information regarding all unmanned exploration of our universe, missions past, present, and planned, can be found at Jet Propulsion Laboratories:
The Visible Planets

Looking West, at 6:30 pm, February 26, 2021
Credit: Stellarium, EG, 
Looking East Southeast, at 5:45 am, March 6, 2021
Credit: Stellarium, EG 
This week, one naked eye planet is visible. Mars is found high in the south after sunset. At the end of February, Saturn, Jupiter and Mercury will join the morning sky just before sunrise. This morning apparition for Mercury will not be great but the trio will make for a challenging grouping to look for at the end of the month.
Mercury
Mercury is currently exhibiting a morning apparition with maximum elongation occurring on March 6. As we approach this date Mercury will be seen higher above the horizon each day before sunrise. Unfortunately, due to the angle of the ecliptic, this is not a great apparition for Mercury. The best chance to find Mercury will be to go out about 40 minutes before sunrise and look east southeast.
Mars
Currently Mars appears as a 0.8-magnitude object that will be visible high in the south about 30 minutes after sunset. Mars sets by 12:28 a.m. The observing season for this apparition ends around March 10, 2021 and superior conjunction occurs on October 7, 2021.
Jupiter
Jupiter is starting to climb out of the Sun's glare just before sunrise. The start of the week may be a bit early to try and catch this giant planet but by March 6, those with clear views to the east and southeast may have a chance to see Jupiter. For your best chance to see Jupiter, look east southeast 40 minutes before sunrise.
Saturn
Saturn has returned to our morning sky. Look east southeast 40 minutes before sunrise to find the ringed planet.
Mars Perseverance Rover Update
After a successful landing on Mars, NASA's newest rover Perseverance continues to go through testing before it starts its mission. Each week this section will contain a few of the images sent back to Earth as Perseverance explores Jezero crater. If you have not seen it yet, the first thing I would recommend watching is a video NASA released last week of the rover's landing. Additionally, the rover has released a few panoramic views from its landing site that you will be better off going to NASA's website to see. The video and panoramic images can be found at here.
NASA's Mars Exploration Program website will be a good resource to visit each day to find any updates on the rover and its mission. Aside from information about Perseverance, NASA's website will keep you up to date on any new findings from other Mars missions and research.
Mastcam-Z Images Color and Greyscale Calibration Targets
Credit: NASA/JPL-Caltech/ASU/MSSS/NBI-UCPH
Hazard Camera Image of a Rover Wheel and Nearby Rocks with Vesicles
Credit: NASA/JPL-Caltech
James S. McDonnell Planetarium
Night Sky Update: February 26-March 6, 2021