Support science for our future. Make a gift to the Science Center's Annual Fund today to help power connections to STEAM for everyone in our community.
In June, the Science Center was the host site for the international hunger relief charity CANstruction design and build competition. Nine local teams of professional architects, engineers, contractors and designers created Polinator Week themed designs. The event was organized by Hastings + Chivetta Architects in collaboration with BatesForum, Fox Architects and JEMA.
The results are in! Read on for some fun facts from 2019's CANstruction event.
Over 50,000 visitors came through the Science Center during 2019's CANstruction, which ran June 22 through June 30.
With the cans used in the creation of each entry, the Science Center donated over 25,000 pounds of non-perishable food items (25,220 pounds, if you want to be mathematical) to Operation Food Search.
The canned food collected equaled a value of $42,621.80 and represents enough to feed 6,305 people for one day.
The on-site penny voting for People's Choice award collected a total of $105, which was also donated to Operation Food Search. The People's Choice winner was Pooh Bear created by M & H Architects
Out of the nine incredible entries, Science Center employees chose Mr. Potato Head created by Incite Design Studio as their staff favorite.
Check out some more pictures of the stunning CANstruction builds that were on display.
Thanks to everyone who came in, donated, and helped make this year's CANstruction a success.
---
Your Support
Support from donors, Science Center members, and Supporting-level members is instrumental in helping the Science Center continue offering connections to science for everyone in our region. If you'd like to show additional support for our mission, please consider donating to the Science Center's Annual Fund, becoming a member, or becoming a Supporting-level member.
Your Impact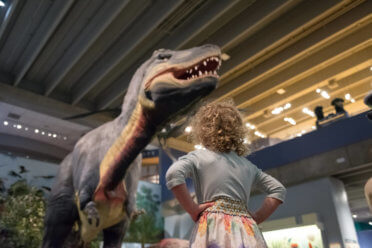 Want to learn more about how the Science Center and its supporters are making a difference for STEAM learning in the St. Louis region?