Apollo 11 First Steps Edition
Featuring never-before-seen 70mm footage from the Apollo 11 mission
APOLLO 11: First Steps Edition is a thrilling cinematic experience that showcases the real-life moments of humankind's first steps on the moon. In this special edition of Todd Douglas Miller's critically acclaimed Apollo 11 documentary, created exclusively for IMAX® and giant screen theaters in science centers and museums, the filmmakers reconstruct the exhilarating final moments of preparation, liftoff, landing and return of this historic mission—one of humanity's greatest achievements and the first to put men on the moon. With a newly-discovered trove of never-before-seen 70mm footage and audio recordings, APOLLO 11: First Steps Edition joins Neil Armstrong, Buzz Aldrin and Michael Collins, the Mission Control team and millions of spectators around the world, during those momentous days and hours in 1969 when humankind took a giant leap into the future.
See it in the newly renovated state-of-the-art OMNIMAX Theater featuring IMAX® with Laser.
Same-day tickets for OMNIMAX films are available online, at the Science Center, or by calling our box office at 314.289.4400. Feature films may have special pricing. Discounts are available for groups of 10 or more.
Take your experience to new heights!
See the movie and then experience Apollo 11 & Beyond VR at our VR Transporter! Climb aboard a massive Saturn V rocket and blast off for an adventure to witness humankind's first inspiring steps on the Moon. Learn how early spaceflight pioneers like the Apollo astronauts made the successes of the subsequent Space Shuttle program and International Space Station possible and helped forge a new path towards long-term planetary exploration. Glimpse how small steps will lead to giant leaps in the future as the exploration of Mars begins
Learn more about the VR Transporter
Movie Pricing

This is a paid experience.

Ages

Price

Members
FREE*
Children (ages 2-12)
$8.95
Adults (ages 13-59)
$10.95
Seniors (ages 60+)
$8.95
College Students with ID
$8.95
Military
$7.95
Combo (1 OMNIMAX ticket & 1 Planetarium Ticket*)


*Available for purchase at the box office only.

$13.95
Groups: $8 per person for all groups
*Free tickets based on membership level
Become a Member
Educational Resources
National Informal STEM Education Network
Browse through 50 links of educational resources including online educator workshops, multimedia and interactive resources, NASA Visualizations of the Moon and Apollo Program and many other activities.

Launch Lunar Landing resources

Launch Earth and Space toolkit

---
NASA Jet Propulsion Laboratory (JPL)
Explore a universe of STEM activities and resources. Kids can even learn how to build a lunar rover!

---
National Education Association (NEA)
Lesson plans, resources and activities that capture the excitement of learning about the moon itself and man's first lunar landing.

Discussion Guide
Apollo 11 takes us inside NASA's most celebrated mission—the one that first put men on the Moon, and forever made Neil Armstrong and Buzz Aldrin into household names. Crafted from a newly discovered trove of footage and uncatalogued audio recordings, the film immerses viewers in the perspectives of the astronauts, the team in Mission Control, and the millions of spectators on the ground. It launches us to those momentous days and hours in 1969 when humankind took a giant leap into the future.
Partners
Membership
Members get free OMNIMAX tickets.
Become a Science Center member and receive free Omnimax tickets and discounted admission to feature films, as well as a full year of additional members-only benefits.
Plus, members help support the Science Center and our mission to make science learning open to everyone.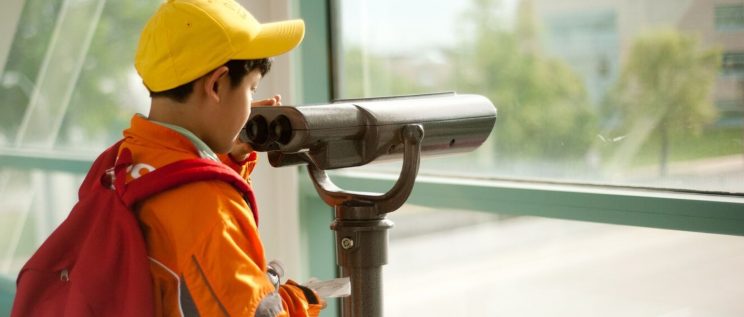 Accessibility
Convenient wheelchair accessible seating for the OMNIMAX is available via the third floor theater entrance. Elevators and ramps serve all public areas of the OMNIMAX.
OMNIMAX offers hearing assistance that is not available in any theater in the region. This includes new adjustable caption devices, new hearing assistance devices with Descriptive Video Services(DVS) and Telecoil. When ordering tickets, please let your reservationist know you're interested in these items, or see an usher before your film begins.