Connect with Curiosity
Connect with Curiosity
Science comes alive in your home!
The Saint Louis Science Center is continuing to ignite and sustain lifelong science and technology learning by using online content to engage our guests and members of all ages to keep learning and growing. Look for DIY science experiments that can be done at home, Amazing Science Demonstrations from our Energy Stage team, connections to local scientists, astronomy updates from our McDonnell Planetarium team, live chats and more.
How to Extract Strawberry DNA
In this easy science experiment, Lauren shows us how to extract DNA from a strawberry using common household materials.

Chromatography: A Popular Laboratory Technique
Even if you've never heard of chromatography, you have probably seen it in action.

Honey Bees Get a New Home
Follow along as Hannah and Maddie move an entire honey bee colony to their new home.

Elephant Toothpaste: A Classic Science Experiment
Watch as Lauren uses household items to create a substance that foams, bubbles, and changes temperature.

Stream OMNIMAX® Movies For Free
You can now experience OMNIMAX® Theater films in the comfort of your own home. Watch free from your computer or mobile device!
The Saint Louis Science Center is pleased to partner with Giant Screen Films in order to offer several popular OMNIMAX Theater titles online while theaters are temporarily closed. We look forward to welcoming guests back soon, but in the meantime, enjoy these IMAX® movies.
Every Day at 9 AM!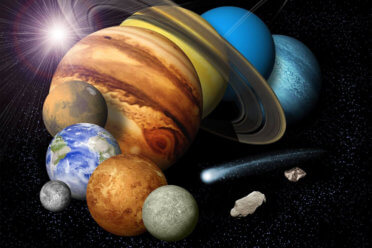 Astronomy Fact of the Day
Learn about space and astronomy every day from our James S. McDonnell Planetarium! Moons, stars, planets and the history of how we've learned about our universe.

Every Wednesday at 10 AM!
The Collections Department
Learn about some of the over 100,000 artifacts in our Collections Department. Kristina will take you through some of the more interesting, and oddball, items from our archives.

Want to stay up to date with the Saint Louis Science Center? Sign up for our email newsletter!
Your support matters.
As a non-profit organization and a free museum in the St. Louis community, we rely on Memberships, donations and ticket sales to continue bringing our community informative science content. Every dollar helps our educators and team provide you with fun and exciting experiences at the Science Center. Please consider purchasing or gifting a membership for when we reopen to the public or making a donation using the links below. We can't wait to welcome you back to your Science Center.
Stay connected with your museum
A Message to Our Community Regarding COVID-19
The Saint Louis Science Center is currently closed until further notice in line with our regional and national leaders' efforts to curtail the spread of coronavirus (COVID-19).
Have questions?
We are here to answer your questions. Our team will be available during regular business hours and you can contact us via our form.