Support science for our future. Make a gift to the Science Center's Annual Fund today to help power connections to STEAM for everyone in our community.
All of us at the Science Center are incredibly grateful to the St. Louis community for the support we received for this year's Give STL Day. Thanks to everyone who donated, we surpassed our numbers from last year's campaign, increasing the total amount of funds raised by 58% compared to 2019, as well as increasing the number of donors who gave by 48%.
Donations 2020 VS 2019
Donors 2020 VS 2019
---
"Thank you to everyone who gave a gift (or two!) for Give STL Day. This year was our most successful Give STL Day ever, helping to raise important funding to support science learning, education, and community programs here in the St. Louis region. In these uncertain times, gifts mean even more than just their dollar amount, and we couldn't be more grateful."
–Amy Martin, Senior Director of Individual Giving
---
This year, Give STL Day was even more important. The Science Center, like so many nonprofits around St. Louis and the world, faces an unprecedented disruption in how we operate, earn funds to support our programming and education efforts, and adapt to the future.
Funding raised this year will go toward keeping fun and vital science learning possible in our community through online efforts like our Science @ Home virtual museum, featuring connections with real scientists and STEM experts, and at-home learning resources, as well as the science programming and experiences our guests enjoy once we're able to safely open our doors again.
From the more than 200 mission-driven educators, STEM professionals, and behind-the-scenes colleagues working to connect minds to science, we want to thank everyone who supported our mission this Give STL Day, as well as those who continue to do so. Your support makes everything possible.
---
"Whether through in-person or digital programming, we are dedicated to igniting and sustaining lifelong learning in children, adults, parents, teachers and students of all levels. Thank you for your continued support for this year's Give STL Day. We are proud to be a community resource in the St. Louis area and beyond and a connector for you and your curiosity."
–Cate Hanford, Associate Director, Formal Education
---
Your Support
Support from donors, Science Center members, and Supporting-level members is instrumental in helping the Science Center continue offering connections to science for everyone in our region. If you'd like to show additional support for our mission, please consider donating to the Science Center's Annual Fund, becoming a member, or becoming a Supporting-level member.
Your Impact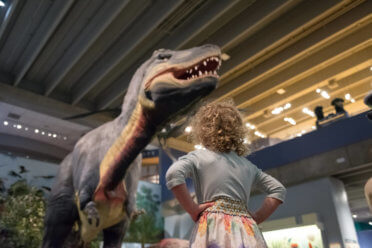 Want to learn more about how the Science Center and its supporters are making a difference for STEAM learning in the St. Louis region?